A SAN is one of several methods used by enterprises for secure storage of data and disaster recovery and is a mainstay for improved data backup and storage.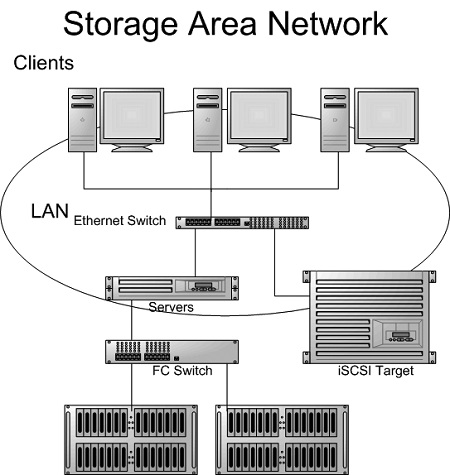 What is SAN? What does it mean?
SAN stands for Storage Area Network and was originally an enterprise class storage system developed more than a decade ago. In today's environment, a Storage Area Network has become more common due to the reduced costs of high speed disks. The implementation of a SAN helps to simplify data life cycle management and is an important part of ensuring a reliable and secure data transfer infrastructure.
A Storage Area Network is a network with secure high-speed data transfer that provides access to block level storage. Consolidated block level storage is a logical arrangement of storage capacity for applications and files on an internal or virtualized server. At the software layer, block level storage intercepts Input/Output requests to the logical storage capacity and then maps them to the corresponding physical location.
SAN networks are considered special purpose networks or a sub network that integrates different types of data storage devices with the related data servers. The purpose of a SAN is to efficiently serve a larger network of users.
Storage Area Networks typically represent only one part of a complete network of resources for an organization. The SAN is commonly positioned within close distance of other resources and can also be situated in a remote location for the purpose of backup and storage of archives.
There are basically two different types of Storage Area Networks:
Internet Small Computer System Interface Protocol (ISCSI:  This type of SAN is a storage network that can be made available over a reduced cost Internet Protocol (IP) network. The storage is accessed over the IP network to its hosts or associated servers. ISCI works like a normal disk and allows you to create partitions and file systems. This is similar to connecting a USB flash drive to your system, except that the process is done over an IP network.
Fiber Channel: This type of SAN involves storage that is connected to a high speed network. The network consists of fiber channel switches that are interconnected. Fiber Channel SAN is used for mission critical applications where access to data is required without any interruptions.
Depending upon your business requirements, both types of Storage Area Network configurations provide specific advantages.
References – SAN reference page on Wikipedia
Why would a business implement SAN technology?
Businesses and organizations implement Storage Area Networks due to the many advantages it has to offer. Some of these advantages include but are not limited to:
Centralized Backup: When backup is centralized it helps to streamline IT system administrator tasks and responsibilities. Centralized backup stores data on local disks with incremental backups, as opposed to multiple disk backup on more than one server connection.
Virtualization:  With modern cloud technologies, a Storage Area Network can be configured as a consolidated storage hub. This way server capacity is no longer limited to single storage devices.  This is especially advantageous for software applications and other programs.
Failover Protection: A Storage Area Network can provide failover protection in the event of an outage or system failure. With dynamic failover protection, you still have ongoing network functionality due to automatic rerouting of traffic and built-in redundancy, even if a server is down for maintenance or there is some type of issue that causes downtime.
Improved Disk Utilization: Usually when organizations buy server attached storage, they end up purchasing more than they need to provide extra space for future storage needs. This means that the extra storage space is a wasted resource until such time that it is needed for storage. By using a Storage Area Network, the storage space can be allocated to any server that requires additional storage. This eliminates the need for more storage purchases.
High Speed Disk Access:  As in the example of a Fiber Channel SAN, you can retrieve data at a transfer speed capable of exceeding 5 Gbps (gigabits per second). This increases efficiency when accessing critical applications and data. Plus, data transfer can be made available directly from the storage source to the target device without requiring server intervention.
Availability: As a rule, Storage Area Network technology is typically more reliable than other electronic storage technologies. This reduces costs associated with outages and ensures business continuity and productivity.
Improved Management: Instead of being required to install additional disks to expand storage, a Storage Area Network can be configured to a server via remote access. This allows you to proactively manage storage from one console with minimal downtime.
What are some of the other electronic storage technologies? How do they work?
In addition to a Storage Area Network, there are various other types of electronic storage technologies. The type of storage technology you use will depend upon your business requirements and data storage needs. Here are a few different types of storage architectures:
Directly Attached Storage (DAS)
Directly Attached Storage (DAS) is a subsystem of storage that is directly attached to a workstation or server via a cable. DAS can be a hard disk that is built into a computer system or it can be a disk shelf containing multiple disks that are connected via an external cable. A disk shelf allows you to optimize storage capacity and performance and often requires separate management.
A disk shelf can also be connected to more than one server to allow the storage disks to be shared. This is especially useful for fault tolerance where a system can be designed to provide backup so a specific process can immediately be substituted with no loss in service. The disk shelf can also be swapped out with a failed disk in order to rebuild the disk to the equivalent of other working disks.
Common storage protocols used for Directly Attached Storage are SAS (Server Attached Storage), SATA (Serial Advanced Technology Attachment), and Fiber Channel.
References – Das reference page on Wikipedia
Storage Area Network (SAN)
Although we have been discussing Storage Area Networks in depth, it is worth mentioning that the key difference which sets a SAN apart from other storage methods is reliability, availability, and disk utilization. For example, when you compare a Storage Area Network to Directly Attached Storage, SAN allows you to access applications even when there is a failure where DAS requires you to rely on the attached disk.
Additionally, SAN offers better disk utilization at a ratio of 80/20 (used and unused) without encountering difficulty. Usually, with Directly Attached Storage, you get a disk utilization rate of more than 40 percent, which is considered excessive. SAN can also be attached to a server via remote access where DAS requires you to add storage manually.
Network Attached Storage
Network Attached Storage (NAS) is a file level data storage method that is connected to a network, which provides data access to a variety of clients. NAS operates as a file server and provides a specialized configuration according to the hardware or software.
A Network Attached Storage system consists of a series of network appliances that contain single or multiple hard drives. The disks are organized into logical and redundant storage systems known as a RAID (Redundant Array of Independent Disks) array.
The advantage of Network Attached Storage is it relieves other servers on the network from the responsibility of file serving. Instead, access to files and applications is accomplished using file sharing and Ethernet protocols such as Network File System (NFS) or Server Message Block/Common Internet File System (SMB/CFIS).
Hybrid/NAS Heads
A Network Attached Storage head is an NAS, which connects to a Storage Area Network and is void of any on-board storage. The purpose of this type of storage technology is to translate file level NAS protocols and SAN protocols at the block level.  It also integrates the advantages of both types of storage technology to allow PCs to connect to centralized storage without having to use a Host Bus Adapter.
What are some of the Storage Area Network Brands?
Storage Area Networks are offered by server manufacturers such as Dell, Hewlett Packard, and IBM. There are also Storage Area Network providers that are server independent such as EMC Corporation. Dell, and Network Appliance.
Dell provides a Storage Area Network solution that is an all-in-one service for hardware and storage. They offer a large selection of SAN storage systems that include Fiber Channel, ISCI, SAN switches and more.  They can also customize a SAN solution to suit specific business needs.
IBM and Hewlett Packard also offer SAN solutions that are designed for various storage needs. The solutions include storage systems, services, switches and scalable solutions that can change as your storage requirements change.
If you opt to use a server-independent Storage Area Network, providers such as Dell, EMC Corporation, Hewlett Packard and QLogic provide affordable Storage Area Networks that are easy to install and manage.
How would I configure a SAN?
Unless you are technically savvy, I would not recommend attempting to configure a SAN solution in a business environment, for whatever purpose. SAN devices are only as good as the person that configured them. If you are a small business then the chances are that you already have a resource an IT expert or resource that can help you setup your SAN, but choose wisely, if you don't have confidence in your resource then source an external expert. We used Our IT Department because they are a registered Dell partner and an Equal Logic specialist; there are many other companies like this out on the net.
Conclusion
Storage trends and statistics for 2014 point to several new storage technologies that will be utilized during 2014.  Storage Area Networks will continue to be utilized by enterprises and data center organizations. Additionally, hybrid cloud and flash storage will be brought to the forefront as the use of hybrid cloud models increase.
Virtual versions of storage infrastructure components will become more common. These are virtual components that will easily integrate with existing physical network and storage systems.
According to Load DynamiX, a leader in infrastructure performance, "2014 will be marked as a year of transition where the majority of new applications will be deployed under an IaaS (Infrastructure as a Service) model. Performance and availability of the shared infrastructure will be assumed by the application owners and business unit general managers. The pressure to proactively ensure infrastructure storage and performance will intensify. Products that can predict, not just react to, infrastructure behavior will start to become commonplace."
Additionally, notable storage technology trends that gained momentum during 2013 will continue to grow during 2014. Clustered storage adoption will increase and the concept of a united infrastructure will become the primary building block for data center infrastructure.
Kristine is a school teacher with over ten years' experience in the classroom, with a deep emphasis on ICT and technology. Away from the classroom, Kristine likes to blog about her activities and share her knowledge with others.