When the time comes for the home renovation, the very first room which owners want to renovate is the kitchen. It is the place where you cook, eat and have a cup of coffee with your loved ones. It does not have to be congested and untidy. It should rather be spacious and tidy.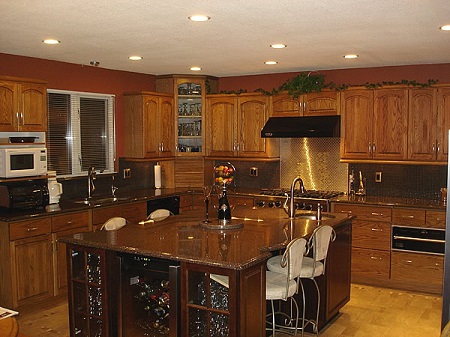 Kitchen renovation can be an exciting project but people get confused that where to start from. There are so many things; from faucets to flooring, appliances, lighting, cabinets, countertops etc. So, before you start the home renovation project in your kitchen, keep in mind the following tips.
Tips for Home Renovation (Kitchen)
First of all set a budget. When you will be going through magazines and catalogues or will be out for shopping, you will definitely be tempted by amazing kitchen stuff. But before you get blinded by its beauty, just recall your budget.
Now plan. Majority of people skip this part and simply begin the task but it is very important to plan once you have reached your budget limit. Examine your kitchen and see what renovations are to be done.
Cabinets are the part of kitchen which takes half the total price of renovation. Choose them very wisely. According to your requirement and budget.
Flooring. In home renovations, people usually don't opt for good flooring for kitchen. However, it should not be like this. Go for the one which is durable and beautiful.
Stick to a theme which you want for your kitchen. The color scheme and all. If you are just going to pick things like that, you will end up having a mish mash. Stick to one theme so that all the elements complement each other and blends in seamlessly.
Lighting has gained prominence in modern kitchen. You cannot just go for the old fluorescent bulbs which not only look unattractive but also gobbles electricity. Opt for LEDs. They may be expensive so think about it in your planning.
If you are looking to hire a contractor for your home renovation. Hire a reputed and experienced person.
There are numerous kitchen design software. Don't go for the first one. Read reviews and look up for more options.
Last but not the least, when renovating your kitchen make sure that you follow the triangle concept. This allows the cook have an access to sink, refrigerator and stove at a time.
Benefits of Kitchen Renovations
Home renovation brings with it a lot of advantages. It gives your home a completely new look which is quite refreshing. Kitchen renovation can benefit the owner in a number of ways individually.
Home renovation cleans the house perfectly.
Kitchen renovation raises the value of your home.
It gives you a much comfortable place to eat and chat.
Renovation can change the old fashioned look to a modern one.
Home renovations can make your home a much more comfortable place to live. With the warm feel of the home sustained, you can have a totally modern look for your home.
Rob Gold works in construction and home renovation in Vancouver, Canada with Gold Coast Stucco in Vancouver, Canada. When he's not working, he loves fixing up old furniture and carpentry.