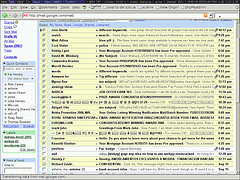 Through an inbound scan service, the user is able to block junk mail, viruses and spam that are not required. These are some of the award-winning App River anti spam services that help to save both money and time through blocking messages that are unwanted while ensuring a system is free of any adware, viruses or spyware. In fact, through a service such as Secure Tide from App River, on-site software or hardware is not needed.
Easy set up
To set up an anti-spam service is very easy. A little MX record is the little change required to start. After that you will be able to get a daily report on the held spam you might not be seeing. In case of any legitimate messages mistaken for spam, you can easily restore them. While many might look at this service skeptically, it is better to use it for a month for free to see how it works.
After deciding the effectiveness of the system, the only fee to part with is a low monthly fee per user to maintain it. Since there are no cancellation fees or long term obligations, the service can be cancelled at any time.
Benefits worth talking about
Inbound scan apps from App River have a number of benefits. Apart from accessing the daily held spam report, you will notice the implementation is simple, disaster recovery of email possible while making the most of a phenomenal support from a team based in the US every day, 24 hours a day. The app is 99 percent effective in blocking viruses and spam while outbound and inbound email protection are provided as well as daily real-time IT threat protection.
Protective nature of the service
Through the fully managed service for email protection, 99 percent of spam, viruses, phishing attempts and a huge number of web pollution is protected from entering your network. Since the App River inbound and out-bound scanning solutions are delivered in the form of a service, you will not be installing, managing or configuring anything.
The setup of the service is simple and easy and takes a couple of minutes or less than sixty minutes whether the business is gigantic or a small one.
How the email to block is determined
App River solutions rely heavily on people and automated systems to collaboratively block harmful viruses and spam. This is why the system is designed in a way that both man and machine engage in a vast learning process to work together seamlessly in message evaluation. A machine effectively does a lot of things many people are unable to do, such as cataloguing and comparing features on millions of emails fast.
On the other hand, there are things only a human being can do, such as determining an obfuscation technique and new spamming systems. For example, sexual innuendo is easily recognized by a human.
Effectiveness of App River anti-spam efficiency
The real skill set of App River as reported from insight reports is in speed virus and spam capture rates incomparable with any other service in the industry today. Since 2002, App River services, such as Secure Tide, have been able to retain over 97 percent of their customers.
Chris is hardware engineer who blogs occasionally on technology and gadgets. He occasionally uses Premier One IT Solutions for his data backup and recovery.