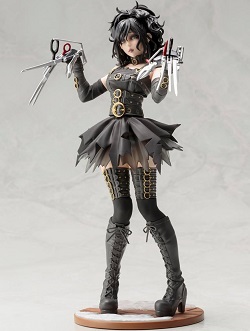 Are you a massive fan of incredible superheroes, lightsaber-wielding goodies (and baddies!) and the greatest supervillains? We are too! That's why when you're buying a model, action figure or statue for yourself you need to make sure that you're buying the best quality product. Far too often, action figures especially can look completely different to the person that they're meant to resemble; This can be extremely disappointing. Luckily, all is not as bad as it seems!
There's a brilliant collection of statues created by Kotobukiya that any devoted fan of multiple franchises including Marvel and Star Wars must have. This blog is to tell you why you should buy a Kotobukiya statue of your favourite character.
Admittedly, Kotobukiya products are not often the cheapest replicas available of your favourite heroes and villains. Regularly they can cost a pretty penny, leaving you wondering where half your band balance went. Despite this, we're sure it is worth it if you want the perfect representation of a much-loved character for you or somebody else.
Unparalleled Action Figures
The main reason you should purchase a Kotobukiya statue is the most obvious. The beautiful detail that goes into the statues is not only brilliant but definitely unparalleled in the market for action figures and replicas in general. A personal favourite of mine is a statue of the iconic DC villain, the Joker. Stunning details makes this sculpture unrivalled compared to other attempts to immortalise this supervillain. In classic Joker fashion, this statue depicts him leaned over, hiding a gun behind his back.
That isn't the only detail making you yearn for more of the Joker however. He has shined shoes, creases in his trousers and blazer attributed to the fact he's leaning over as well as an evil smile spread across his face. The effect is truly haunting, the quality undisputable. This isn't the only model with such accurate details: Whether you love Magneto (featuring bursting muscles with even detailed veins!) or Kylo Ren, shoes coated in realistic snow, there's a model for you.
Possibilities
Another reason you should look at purchasing a Kotobukiya replica is the fact that there's something for everybody. Not only are they all painstakingly detailed, there's a huge selection. From Star Wars alone there's Darth Vader (iconic helmet on or off), the fearful Emperor Palpatine (every wrinkle included!), Boba Fett and all of the key characters from the latest films, Rogue One and The Force Awakens. Of course, they don't have only replicas of Star Wars. There's replicas of DC characters as well as Marvel so no matter your favourite franchise, you should be able to find something that you'd be happy to display in your home.
Kotobukiya statues truly are unsurpassed when it comes to highly detailed replicas. If you want the highest quality for yourself or somebody else, this is ultimately the best option. Despite some being cheaper, it doesn't come better than this. Another reason you should purchase one is if you are an avid collector. These figures are sure to bring you a profit in the future if you choose to sell them.
That's why we think you should buy one today, perfect for birthdays, Christmases (or whatever you celebrate) or an everyday gift if you have the cash to splash.
This article was written by Jack Mitchell with useful information from Overdrive Toys. Jack is a digital marketer who likes the outdoors and helping people reach there sales goals.