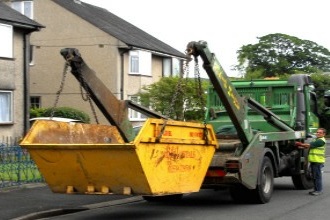 It's amazing how many items you can accumulate over a space of time that were once useful but are now just junk that is cluttering up your space. If you are thinking about doing a mass 'clean out', it might be handy to hire a skip.
Skips are very practical in the way that you don't have to keep driving back and forth to a rubbish disposal centre. You can just get rid of your refuse in one big load.
Before you decide to do this though, you must be 'in the know' of what factors that will ultimately decide what kind of skip you should hire. In this article, you will read some of the basic thoughts in your decision for your skip hire Dublin and also the things that are prohibited to be placed in a skip and the reasons why they are not allowed.
1. Size and Type
Back in the good old days, you could hire a skip and throw whatever you liked into it. It could be a mixture of miscellaneous debris. In today's world, we are now more eco-friendly, and just like how we separate our rubbish bins into food waste, bottles and recyclable items, this is how skip hire is done too. You can different types of skips like wood skips, plastic skips and even garden waste skips. Each skip is to be used for its specific use, you cannot intermingle different categories inside one skip. Also the more recyclable the items in the skip can affect the cost of the skip. The cheapest skip options tend to be the ones holding paper and plastic.
Obviously, size is all dependent on how much junk you think you have to throw in there but there is a general rule that items cannot be stacked over the lip of the skip. If this happens, the company may refuse to transport it away until you empty some of the contents, so make sure you choose the right size.
2. Scrap Metal
Ever heard of the saying "worth its weight in gold"? Well, scrap metal in the recycling industry is valuable. If you are looking to offload a lot of metal material, it could make your skip hire even cheaper and could be lucrative if you can sell it to scrap metal merchants.
3. Things you can't throw in a skip
There are several types of items that you can't place in a skip. Here is a list of those items and an explanation why.
Waste Electrics (WEEE)
WEEE covers a variety of objects such as toasters, televisions, microwaves, telephones, etc. These need to be taken especially to a WEEE recycling facility which you can find out your nearest one online.
Oils, Chemicals, Solvents and Paint Tins
These all contain chemical compounds which are deemed hazardous and generally a skip firm's licence does not cover handling these materials. These need to be taken to waste facilities designed to deal with them.
Vehicle and household batteries
Batteries contain many different metals and chemicals which mean you can't throw them in a skip. Not even small ones. Car batteries have a large content of Lead in them which is extremely poisonous and they need to be disposed of in a unique way.
Medical Waste
This type of refuse can't be placed in a skip due to fears of risks of infections and contamination. Must be dealt with by a licenced firm.
Tyres
Tyres are made of different chemicals and need a lot of treatment to recycle so this is why you can't throw them in a skip. You can take them to tyre specialists for recycling.
Asbestos
It is illegal to throw Asbestos in a skip due to its hazardous and harmful nature. It needs to be taken away by a professionally trained Asbestos contractor.
Gas Cylinders
Doesn't matter if they are empty, you can't put them in a skip. Skip contractors consider them dangerous and will not take them. The best thing to do is to contact the company that provides the cylinders as they will be glad to take them and reuse them.
Explosives
For obvious reasons! Highly dangerous and should be dealt with by a trained professional.
So there it is. The basic things to think about when hiring a skip. Make sure you choose the right type and size and don't throw any of the prohibited items in them as you may be charged more money, be given a fine or the skip company will not take the skip back until you remove the forbidden items.
F. Aldea is an Online Marketing communications consultant and blog author who loves to explore the hottest trends in business, technological know-how and marketing techniques and creates about a variety of articles.