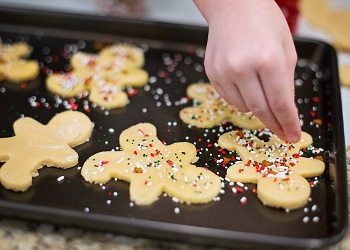 Despite efforts to make the best plans, there are always curve-balls that will come on Christmas Day. Here are some hacks you can do to make sure the day goes as smoothly as possible.
Use you dishwasher to heat your plates
The oven is guaranteed to get crowded during this holiday. After spending all that time cooking a delicious meal for your family, help ensure that it makes it to the table hot by putting your plates in the dishwasher before dinner. Remember not to open the door until dinner time!
Par boil the potatoes in advance, then freeze them
The hardest part of preparing a holiday dinner is prepping your ingredients for recipes. A week before your dinner occurs, par boil your potatoes, place them into a zip-lock bag along with goose-fat, and then freeze them. The fat will ensure your potatoes will cook just as crispy as the ones prepared same-day.
Prep Sprouts ahead of time too
This is best done the day before your gathering. Simply par boil the sprouts for a few minutes and add them to a zip-lock bag. On the day you're ready to use them, fry some pancetta and chestnuts with garlic-infused oil. Add these ingredients into the zip-lock with your sprouts, and then fry everything together to heat them evenly. This should only take a few minutes.
Make Carrot & Parsnip Pie
Carrot and parsnip pie is an easier way to serve these two veggies. Boil and mash your carrots and parsnips together. Layer them in a lasagna dish with sprinkles of cheddar cheese and tons of black pepper between each layer. Finish with cheddar on top. You have the option of preparing this the day before; simply store the dish in the fridge and on Christmas day, place it into the oven for 20 minutes, or until the cheese starts to brown. This dish is known to stay warm for long periods of time.
Heat your Christmas Pudding in the microwave
Some might think using a microwave is controversial, but if there is no room in the oven and you need your pudding out on time, this is a simple method that doesn't change the taste at all. It's recommended that you place the pudding in individual servings before heating.
Make your Gravy beforehand
Use chicken legs of a turkey drumstick to create your gravy. Gravy will keep for a couple of days in the fridge, or it can be frozen for longer periods.
Buy fresh cranberry sauce
There really isn't a difference in taste between from-scratch cranberry sauce and fresh cranberry sauce from the store. If you'd like, put it in a fancy dish; no one needs to ever know you didn't make it yourself.
Relax! Enjoy the day!
Remember to enjoy your family and friends in your home, and that everyone is simply happy to be with you on this holiday and of course everyone will be happy to get a nice gift. Whatever you do or don't do, your dinner will be a success with these small helpful hints. Just make sure to have your guests get the dishes while you rest after dinner!
F. Aldea is a Digital Marketing communications consultant and blog writer who loves to explore the newest trends in business, technological know-how and advertising and creates about a variety of stories.