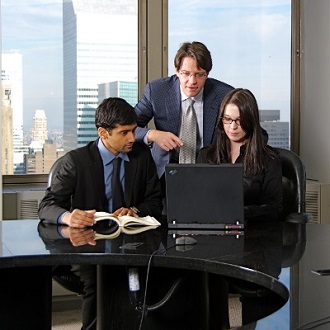 Sending your staff on training courses that are related to their job offers many benefits to them and to your business, providing work related training for your staff will help to increase their performance and effectiveness.
In this post we are going to discuss a few of the benefits that training can offer.
Improved Morale
A workforce with good morale is a more productive workforce, anything that a company can do to increase staff morale has to beneficial, providing staff training will demonstrate to your employees that you value them.
Customer Service
Providing work related training for your staff may help to ensure that they provide better customer service which will mean increased customer retention and sales, staff will be able to do their job better. If customer service of sales is part of their job they will learn to handle your customers better.
Attract New Talent
A company is only as good as its staff, all companies should aim to find and recruit the best staff. If a company offers a structured training and development program they will be able to attract forward thinking, motivated staff who have a focus on career development. The opportunity for career or skills development may sway the decision of talented individual when they are weighing up their options.
How Your Staff Benefit
Your staff will benefit because they will get to work for a company that invests in training and your investment will create a low stress, happy and productive environment which offers increased earning potential and the opportunity for career development.
Professional Bodies
If your company is a member of a professional body such as the law society you will no doubt know. Staff who are members of a professional body are likely to have their training requirements laid out for them by the professional body. Professional bodies represent different industries and professions, all have training requirements which their members are expected to maintain. If you have staff who are members of a professional body it is likely they will have CPD training requirements.
Professional Training
If you employ professionals such as in your accountancy or IT departments you will most likely need to outsource training to a professional accredited body, the Association of Accounting Technicians (AAT) is one such body. AAT is a professional body that offers accounting qualifications, the organisation has more than 133,000 members around the world.
AAT also have an employer accreditation scheme which recognises employers that offer a positive and planned approach to the professional development of the AAT members that they have on their payroll. Employers can gain accreditation by encouraging staff who are studying for an AAT qualification and by supporting staff in their continuing professional development once they have become qualified.
How to Encourage Staff Development
Companies can provide in-house training to their staff, offer staff who under go job related training a reimbursement of their tuition fees or outsource all staff training to a specialist company. If you are an employer you can show commitment to the continued development of your staff by providing flexible working hours to ensure your staff can attend lectures or complete training modules online during their normal working day.
This post was written and supplied on behalf of Souters College, provider of AAT Courses in London.