When designing your driveway, you want to focus on something both charming and distinctive. The good news is this does not have to cost an arm and a leg. If you are willing to put in a bit of elbow grease, you can create a beautiful driveway which only adds to the value of your home. Think of what people see first–it's your driveway.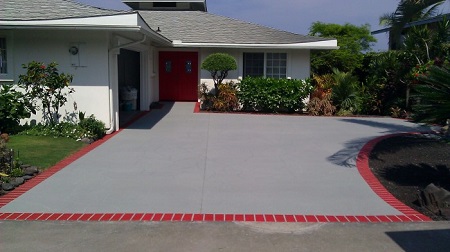 While it should certainly be useful, it also needs to add character to your home. Cookie cutter isn't going to cut it this time. You want curb appeal not drab appeal. It's also necessary to keep maintenance and durability in mind. You don't want to have redo your driveway every two years. Don't overlook your driveway, it is the key first impression.
Take a look at your budget
Certainly cost will be a factor when designing your new driveway, especially if you are on a limited budget. Yet, this does not mean you no longer have options. Even on a tight budget you can use brick pavers, concrete or asphalt. Concrete can be mixed in many ways, including adding color. You can even stamp, paint and rubberize your driveway to give it a very unique and beautiful look which can last a very long time.
If you are simply remodeling your driveway, this can be as simple as adding decorative lights, entry columns or flowers along the edges. You don't have to do it all at once. Even one addition of the best driveway materials can change the look significantly.
Concrete
This is the most low-maintenance paving material you can use for a driveway because it is budget-friendly. Of course, you want to first properly excavate and compact your driveway before installation. The objective is to have enough support for the concrete so that it has uniform thickness throughout the length of your driveway. Steel reinforcement such as wire mesh or steel rebar can help to strengthen the driveway if it will experience heavy traffic. For a more decorative appearance, you can have your concrete driveway stamped or colored.
A long driveway
Again, with a tight budget, concrete is the best option for a long driveway. Imagine if you used another material to pave something as long as a street. Yet, a long driveway is intriguing. Your home isn't just off of the street, people have to drive in to see your house. With a long driveway, it is also important to install a nice driveway gate or some other type of landscape feature which separates the driveway from the street.
At the separation point, you can perhaps use a colored concrete or something more dressed up to ensure a grand statement. This is also budget-friendly since you will only use the more decorative choice at the entrance. You don't have to use it for the entire driveway. And, don't forget to repair your garage door!
Consider the climate
If you live in a 2-3 season climate location, you can install any type of driveway you prefer. If your location has four seasons, then you have to think of things such as excessive heat and snow. For a limited budget, grass would be out of the question since you will have to water it all season long. On the other hand, you can install artificial turf which is low maintenance but just as beautiful.
Decorate the edges
Again, we want some curb appeal. A driveway can look unfinished if you don't have decorative edges. For this step, you can use bricks or stone blocks. You might even use concrete blocks made to look like brick. These will give your driveway a more polished look. If you want something a bit more casual, wooden logs will offer a rustic and natural feel to your driveway. You can execute some DIY work by painting a row of flowers, giving your driveway a bright and colorful look. For something more modern, you can use steel rails.
Place entry columns in front
Decorative columns makes the entrance feel grand. You can use simulated brick and concrete. Even wooden logs will make your entry much more distinctive. You might even top them off with a decorative lamppost. Whatever you decide, make sure they complement your overall look–as well as your home's exterior. They should blend in with your driveway and all of your other decorative touches.
Let there be light
If you have a long driveway or live in a darker area, it can be dangerous to drive in your driveway. With lights, you can make it easier for drivers. Plus, it showcases all of your hard work even when the sun goes down. Add a few post lights along each side of your driveway. These will look adorable even during the day. Another option is paver lights, installed at regular intervals along the edges of your driveway.
Designing your driveway on a budget is far from complicated. By following the steps above, you can have your dream driveway in no time.
Article by Katrina Manning