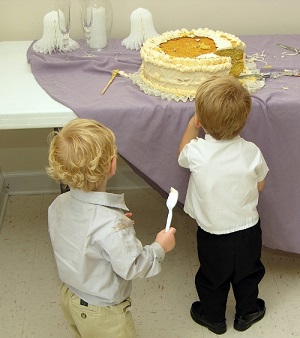 It doesn't matter whether you are an experienced party host or if you are about to throw a party for the first time, the importance of party food cannot be underestimated. Lets face it – some guests find yummy snacks to be the only reason to actually attend an evening meet-up. No matter how great you are at coming up with different activities, fancy dress ideas and turning up the newest tunes – if the food is not good, the party is ruined.
Frankly speaking, if you find the right recipes for you – preparing the food for the party can easily become your favourite part. This is where you have the chance to get creative, nobody wants to see a complex three course meal on the table during a party. The easier it is to eat at your party – the better. So forget about some kind of meat, cooked three ways with an unpronounceable garnish. Fun and easy party food ideas – that is what you need.
Before we continue with the actual amazing recipes, let me give you a few tips that may come in handy and inspire you.
Theme
Does your party have a theme? Christmas, Halloween – these themes are quite obvious, but if you are struggling to come up with a theme for a simple friends gathering – try using something that you have in common for inspiration. Your work place? A summer memory? Maybe all of your names start with an 'A' or all of you are all single? Whatever the theme appears to be – try to also show it in your food. Go for one common colour in all of the dishes or use one ingredient for different snacks, chilli jelly, salmon ice cream the possibilities are endless.
Make sure your food is easy to eat! Especially if the guests will be coming all dressed up – you wouldn't want the evening to be in ruins for one of them, if he/she drops a chicken leg on their dress/tuxedo. A simple way to make the food consuming process as easy as possible is to split the dishes into small portions, one mouthful small. You can use lettuce leaves, little pastry baskets or even decorative spoons for that and you will save on washing up too.
Make the table up beautifully! If you want to impress people in the age of social media it is very important to make sure that everything you do is worth taking pictures of. The friends who didn't attend your party won't be able to taste your delicious food, but you can make their mouth water by posting a few photos of the table on your Instagram or Facebook account. Help yourself decorate with glow sticks, fairy-lights, confetti, flowers and maybe beautifully dried fruits! Only your imagination can stop you!
Now you are ready for our fun and easy party food ideas. What kind of party starts without a signature drink?
Punch
A great idea is to get out a punch bowl. You can offer the first glass to your guests, after that they can help themselves to drink. It is fun to make sure that your punch correlates to any colour scheme you might be going for, but what drink to choose to fit everyone's taste? Why not try an interesting version of a mojito? Everybody loves this one!
Here is the original recipe:
10 fresh mint leaves 
1/2 lime, cut into 4 wedges, 1 1/2 fluid ounces white rum 
2 tablespoons white sugar or to taste, 
1 cup ice cubes, 

1/2 cup club soda. 
Place the mint leaves and 1 lime wedge into a strong glass.
Use a muddler to crush the mint and lime, crushing will release the mint oils and lime juice. Add 2 more lime wedges and the sugar, muddle it all up again and release the lime juice. Do not strain the mixture. Fill your glass almost to the top with ice. Pour the rum over the ice, fill the glass with carbonated water. Stir, taste and you can add more sugar if it is desired. Garnish your glass with the remaining lime wedge.
Be sure to get 10 times more ingredients, as the above recipe is just for one portion. While leaving a hint of lime and mint, you can add nearly any fruits you desire! Not only for the taste, also for the colour. Any kind of berries or citrus fruits will do. See the BBC website for more Cocktail recipes.
Chocolate Barks
Just one more recipe to get your imagination excited.
Chocolate barks started gaining popularity not so long ago. Now what's a party without a dessert? Lets try something that will give you an explosion of tastes in your mouth. A salted chocolate cookie butter bark!
Ingredients
3 cups of chocolate chips, divided
1 cup of Cookie Butter
1 cup of powdered sugar
2 TBSPs butter, softened
1 tsp Kosher salt
How to Make the Chocolate Barks
Line your pan with wax paper. Melt 1 1/2 cups of the chocolate chips and spread the melted chocolate thinly and evenly over the wax paper. Let it cool for ten minutes, once it reaches room temperature stick it in the freezer for a half hour. While that's in the freezer, combine the cookie butter, powdered sugar and butter.
Get your chocolate out of the freezer, spread the cookie butter mixture all over the frozen chocolate. Melt the remaining chocolate and spread it evenly over the cookie butter mixture, spread carefully so as to make a smooth layer without mixing in the cookie butter mixture. Top it off with the salt, you may not need the full 1 tsp of salt. Stick the whole thing back in the freezer. Leave it in the freezer overnight so that in the morning it can be broken up easily.
This post was written and supplied on behalf of Glowtopia, www.glowtopia.co.uk suppliers of Glow Sticks.