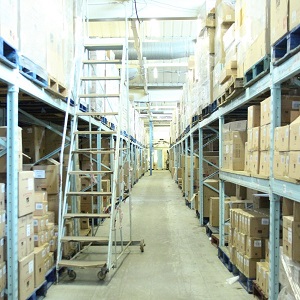 In the supply chain, a warehouse is an essential stage as it keeps the chain moving. It is a point at which there is a change in the mode of transport or where goods and materials are kept awaiting delivery to their respective consumers.
Warehouses vary in their characteristics and role. Whether they are government, bonded or just standard privately owned warehouses. Warehouse logistics involves planning, controlling and monitoring effectively and efficiently the flow of goods from point of origin to point of consumption.
Warehouse managers must ensure customer's requirements are met by ensuring their employees take the right actions, at the right time and also in the right manner. There are warehouse associations which seek to promote warehousing and logistics thus they ensure their members do their business ethically and realise profits. The United Kingdom Warehousing Association (UKWA) is a good example. The UKWA says, it is their mission to protect and advance the interests of their members, support business development and promote industry best practice.
Warehouse Management Systems
The information flow of the warehouse is the most vital element in the logistics management cycle. Information technology has ensured accuracy in time, maintenance and also safety. When it comes to capturing data barcode scanners, voice picking, radio frequency identifications (RFID), wireless LANs and mobile computers ensure minimal errors. These systems control movement, storage of goods and transactions such as receiving, picking, inventory counting, packing, shipping, and putting-away.
Technology keeps warehouse inventory safe and secure, it saves time and minimizes cost thus increasing productivity with the use of real-time information. Warehouse control systems provide reports about the status of the goods in the warehouse and employee progress. The systems may use lists, Microsoft Access, Microsoft Excel or other in-house software programs. Software such as Microsoft Access can be customized to meet the needs of a particular company.
Specialist Software
There are many companies that are specialise in the writing and development of warehouse software, several software solutions can be found on the market. These solutions can be often be adapted to ensure they properly address workflow in the warehouse for which they will be used, business managers should do proper research when choosing the right software for their business.
When choosing a solution for your company's warehousing software you may want to consider your precise requirements, does the solution need to be scalable? Do you have more than one location? Maybe you need auto put-away or rotation allocation capabilities? These maybe be questions for your IT department and, or warehouse manager.
Documentation and Tracking
Upon the receipt and issuance of goods or materials, the same must be documented. There must be quality control and stock control. This means detecting stock loss and defective stock. This, in other words, means proper documentation flow without late invoices or even miss-shipments ensuring a healthy relationship with customers. An inefficient warehouse can cost a company through misplaced stock, stolen stock, incorrectly picked stock and lost orders.
Warehouse consultants can advise and help apply established methods to the design of warehouse solutions, their knowledge can help to increase capacity and productivity within existing warehouse operations.
This post was written and supplied on behalf of Go Supply Chain, supply chain management and logistics consultants.