So you have been thinking about getting a fire pit installed in your backyard as part of an ambitious home improvement project. First of all, let us all say this: that's a great idea! More power to you! However, you need to keep in mind some things before you actually go through it, along with the rest of the backyard project. Allow us to give you some cool ideas on what the final product ought to look like and what it can do for your home.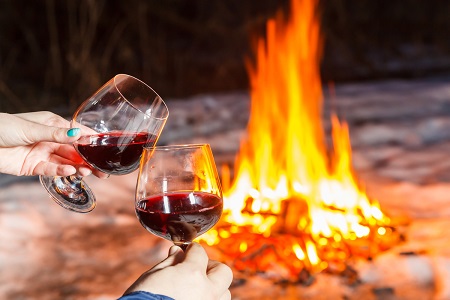 Like all architecture, the most important factor to be considered is the location and its surroundings. After all, different types of fire pit tables are generally meant for different environments. Despite this, most people who sells these fire pits make an effort to produce a design that works for everyone and everything. In this case, the standard Model T design is the small old-fashioned fire pit. There are some pros that make it ideal: it's generally small and doesn't take up too much of your precious space and energy, therefore making it cheaper. Plus, it is a nice, quaint little thing that allows for snuggling with your loved ones at night, among other things. Though if you prefer something with a sleeker edge, the tiki design should be able to work quite nicely.
Of course, your personal preferences and tastes will be considered as a key component of the final product. Perhaps you would like something that produces a much larger flame, especially if you live in an area that is known for having nights that are bitter cold. For this set up, a large modern design is something they will enjoy, as it has a simple box-like design that can hold plenty of firewood for those chilly evenings.
Or you can have a fire pit that fits right into the layout of your patio, like a grill that is mainly used for decoration. This is something that could work quite well with parties, as it gives your guests an area to gather around without having to go out into the yard. On the downside, your parties might have children who might do things that are generally referred to in the business along the lines of "Too Dumb to Live." So yeah, you might want to keep that in mind.
Another possible idea is the combine the fire pit with the table that you have out back. This can be quite a dangerous idea, for the obvious reasons. Yes, you may argue that is too similar to the patio in terms of location, but there are some key differences that one ought to note. It allows you to have a nice dinner outside without people complaining about the weather or the bugs! It's just something that requires you and yours to exercise a little bit of caution.
And those are the five ideas that you ought to consider for your fire pit that you've been planning to add. Of course, each home, backyard, and homeowner's tastes are different, so some may work better than others. It is very much up to the discretion and good judgement of the person who is paying for the fire pit on what ought to done and how it ought to be designed. However if you want to do it properly though, it must be done with a certain degree of caution.