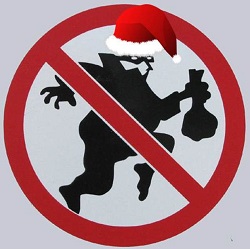 The festive period of celebrations hits the purse strings hard for many of us. Protecting our homes and possessions along with all the generous gifts from friends and family is paramount throughout the year, but this is a particularly vulnerable time for our homes, burglaries rise significantly over Christmas, so protecting our bubble efficiently should become top priority.
So what can you do to protect your home in the winter months?
If you have recently moved, then replacing a door lock is essential as you never know who else will have a key to that lock. This will give you peace of mind automatically. It does not have to be a complicated thing to do, and there are various locks on the market that can be purchased and changed easily.
Be careful to cover your windows, whether this is with blinds, curtains, nets or frosted coverings. They provide invaluable protection and mask the view into your home this will make sure that a potential burglar cannot see directly in.
If your friends or family are off on a holiday then house sitting is a great way of making sure that a property is occupied and looked after. The post can be taken in, plants watered and the lights switched on and off. Burglars don't like activity and comings and goings, so occupation makes a great deterrent.
Installing a home security system will always give you and your family peace of mind as well as protection for years to come. According to "Securing Home and Business" by Simon Hakim/Erwin Blackstone, homes without security systems are 2.7 times more likely to be targeted by a burglar. This proves that the presence of an alarm system is enough to put intruders off. However if someone were to break and enter when you and your family were present, it should also give you enough time to alert the authorities or get to a safe place in or outside of your home.
Most of us think about the prospect of burglary when purchasing an alarm system however they also have other protective benefits. As the saying goes, 'where there is smoke there is fire', some alarm systems have built in smoke detectors too, they can warn you of over active heat sources and contact the appropriate authorities at the same time. Traditional smoke alarms do not have this function built into them, they just alert you of the potential presence of fire.
Keeping an eye on your home remotely has got to be one of the greatest perks of a home security system. Technological improvements have meant that alarm systems can be monitored form many internet sources, you can log on with your smart phone or access it from another computer. This means that you can arm and disarm your system, turn household lights on and off, access the heating controls or monitor the cameras and motion sensors. All of these functions allow you to take control of your home even when you are away.
By Harry Price
Harry Price is a writer from the south coast, who in his spares loves to travel, anywhere from standard holiday destinations to remote locations.  In fact the more remote the better, that way he can find more adventures!!