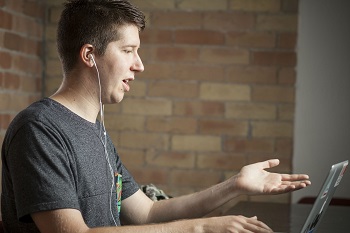 With the growing popularity of online courses, experts from various different industries are now looking at the prospects of teaching online. Without a doubt, more and more people are attracted to online courses because of the many advantages they offer, such as schedule flexibility, lower tuition fees, and the convenience of learning a course that is not available in one's state without having to leave home.
If you are planning to create online courses in the near future, here are a couple of success stories from two men from very different backgrounds who ventured into online teaching at different ages of their lives.
Nick Walter – Teaches iPhone App Online Classes
After staying in Japan to do missionary work in 2008, Nick Walter's father bought him an iPhone 4. Nick graduated from Brigham Young University with a major in information systems. He then learned to code and eventually created iPhone apps for local businesses in Utah.
Four years later, Nick got inspired from reading Tim Ferriss' book, The 4-Hour Workweek, which presented the idea of starting a business that is not too time intensive. At about that time, Apple announced its first programming language called Swift. Nick recalls, "From the day they announced it, everyone was on an equal field trying to learn. I thought, 'Personally, I'd love to learn it just for fun and future stuff, but I have an opportunity to be one of the first people to teach it to other people. Maybe I could make a class where I'm learning as I teach.'"
It took Nick four days to read Apple's documentation on Swift. And four days after Apple announced its release, Nick has posted fifty videos – a full beginners introductory course to Swift on the online education site, Udemy. During the first month, Nick earned $45,000 from the course. After a few months, he released his second course which earned $66,000. This young man in his early twenties has earned an annual salary's worth for a lot of people in just one month's time.
Len Smith – Offers an Online Course About Copywriting
Len Smith from Yorkshire, England has been maintaining his own website for freelance copywriting for the past thirty years, which brings in an annual income of roughly $120,000. He also wrote a book about freelance copywriting, How To Be A Copywriter And Earn Money From Home, which he eventually adapted into a course which he later on offered at Udemy.
Len was almost seventy years old when he started offering his online courses at Udemy. Without marketing efforts to boost enrollees to his online courses, Len was earning about $2,000 to $4,000 every month. He then started an email campaign to existing students which informed them about other Udemy courses. His monthly income then rose to $5,500 to $6,500 and later on grew as high as $8,500 from the courses.
Len now has nine online courses and has taught over 30,000 students. According to him, creating an online course usually takes him thirty to forty hours a week. Maintaining the course and promoting it once it's live only takes about ten hours a week. Len shares, "I could never live the lifestyle that my wife and I enjoy without working. We live a lavish lifestyle, so I always intended to work forever, as it were. I'm retired in terms of my age, but it's very fun — I enjoy doing this."
Michelle Rubio has been writing for SMEs across the United States, Canada, Australia and the UK for the last five years. She is a highly-experienced blogger and SEO copywriter, writing business blogs for various industries such as marketing, law, health and wellness, beauty, and education, particularly on creating online courses such as those offered by CourseMinded.com.