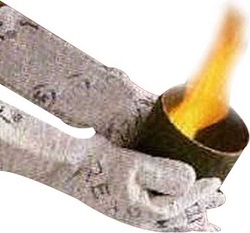 There can be little doubt that asbestos is one of the most deadly substances known to man; we know now that long-term exposure can cause a variety of lung diseases including mesothelioma. Many buildings constructed since the beginning of the 20th century contain asbestos, and we are only now learning exactly how far the potential problems have spread, thanks to the way that asbestos can remain in the human body almost undetected for decades.
Asbestos cement, asbestos texture coating and asbestos insulation boards are the most common uses in 20th century building methods. But what about the other uses of this potentially lethal substance? Well, here we take a look at 4 other uses that may surprise you somewhat; please relax though, because all of these products have been withdrawn from circulation!
Asbestos Snow
Unlikely as it may seem, there was once a product that was intended for Xmas decorations that was made using asbestos, amongst other ingredients. Okay, we have to travel way back to the 1930's to find this deadly product, but nonetheless, can you imagine how many householders were exposed to this scary snow? It's impossible to guess how many of these poor revellers succumbed to asbestos-related health problems many years later. Spare a thought for those with vintage decorations still languishing in their lofts all over the world today!
Asbestos Cigarette Filters
As if smoking wasn't already bad enough for your health! Back in the 1950's, Hollingsworth & Vose upped the stakes somewhat by making cigarette filters using crocidolite asbestos! The brand was known as Kent Micronite and the asbestos was there to add heat resistance for the poor smokers. In fact, the marketing actually boasted that this product was a health protection innovation – one of the greatest in history! The facts were somewhat more sobering because just one packet of these deadly ciggies would expose the hapless consumer to a whopping 131 million crocidolite fibres.
Asbestos Gloves
We all know about the heat resistant properties of asbestos, but how about the time when it was used to beat the cold, by being used to make winter mittens? Yes, these were actually in production not so long ago. Although these were not intended for use by the general public, our firefighters, ironworkers, steelworkers and welders would certainly have been issued with these at some point in time. According to various studies, wearing these gloves would certainly give these workers some degree of exposure to asbestos, and this would add a serious level of risk to an already hazardous profession. The poor souls who were manufacturing these mittens would have had an even higher chance of exposure to the deadly substance.
Dish Towels
Carousel Dish Towels were the company behind the now not-so-smart idea of adding that lovely asbestos to an otherwise harmless dish towel. They incorporated a massive 20% of the substance to their towel's material, in order to improve on their absorbent qualities. Apparently the polishing abilities were also improved, which is great – but how about the health risks?
These 4 deadly alternative uses of asbestos were just the tip of the iceberg, but thankfully we can guarantee that they are no longer being sold today. If you need any further help investigating a potential asbestos case, contact a profession today.
By Harry Price
Harry Price is a freelance writer from the south coast. In his free time he loves rock climbing and running.  His 3 dogs make the perfect training buddies.