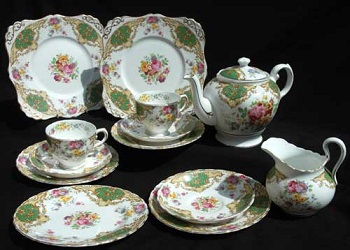 Fine china is considered a handsome option for special family gatherings such as weddings, christenings and important milestone birthdays and is a great way of showcasing your family heirlooms. Your collection is a wonderful conversation starter too, understanding how fine china is made and crafted will not only bring interest to your dining circle but also great aesthetic value.
Where to buy fine china
Fine china can be purchased from a variety of places such as good home stores, reputable internet retailers and dealers. Vintage china can be bought from antique stores and second hand shops and often have a unique array of sets. Having knowledge of different types of fine china will help to make an informed decision of what to purchase as well as its history.
Why do people purchase fine china?
For a Special Occasion or Formal Affairs
The use of fine china can make an occasion feel more glamorous or unusual. It can be matched with glassware and flatware to create a formal setting so is therefore a wonderful way of making a distinct impression. It does offer that touch of class to a table and will warm the guests to the idea of a host bringing out the fine china for an occasion, it will make them in turn feel special.
Fine china can be bought in a variety of styles and patterns. Many producers now offer more casual style place settings as well as those that are more formally decorated. This will add more visual appeal to a more casual occasion. Due to the durability of fine china it is designed to be used regularly. Different styles can also be bought for different environments and seasons, what you may choose to use at Christmas will be different perhaps than would you would bring out for a spring luncheon.
Fine china makes a wonderful heirloom. Passing down family traditions along with your china is a great legacy to leave. Always purchase your china with a large family in mind, six to eight place settings per style will accommodate a good sized group of family and friends. Also consider the quality, as the better it is the more durable it will be when handing down from generation to generation. Look for a timeless pattern too, something that will withstand the transition of fashion.
Fine china is a valuable investment for a family. It is worth getting antique and vintage china valued by an appraiser or an antique dealer, especially for insurance purposes. Good quality china will also appreciate over time, so when buying a modern set it is worth thinking about the brand and style and how it will increase in valuable.
The aesthetic qualities of fine china should also be appreciated, it comes in many styles, shapes, colours and patterns. It is an art form in itself, the intricate embellishments and the elegant form that they take can be beautiful. China is therefore functional but serves equally as well displayed in a cabinet with glass panels.
By Harry Price
Harry Price is a freelance writer and artist living on the south coast. In his spare time, he enjoys cooking, running, rockclimbing and sailing.