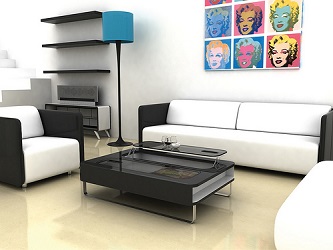 In the last few years the possibilities of renovating old storages and making them come to life has swept away the world of design and decoration.
From rustic touches to constructive elements and industrial lighting, there's no doubt that all of these details are made to stay. The time of design that is focused on manufacturing, mechanics and raw materials is beautiful, and giving it to our age is a great way to make homes and spaces more beautiful.
To know what types of industrial details you love, first check if the building has a history that reveals creative ideas. Exposed brick walls, iron pillars and wood are common elements in building these types of homes and buildings. Walk through the city and find out if there's a reconstruction of some old buildings going on, and check it out, it may give you some ideas.
In the age of steel and iron manufacturing all over the world, using metals and industrial materials could be through piping and lighting, cabins, door knobs and other elements.
Today, cast iron is used as a decorative and structural industrial element that look beautiful in a modern home. You can use copper, metal, nickel, to get that industrial feel into your home.
Combining Old with New
The beauty of an industrial style in your home can come to life if you are talented in combining modern with older architectural details. The space where you can easiest apply these industrial details is the kitchen. Today, kitchen appliances are made from the most elegant stainless steels with elements that fit perfectly, and they remind of the industrial era.
Lighting is also a big part of this style. Try experimenting and see what best fits you, but some things you should follow. A too strong light can not bring any good, so your blinds come to work here. A slightly dim, but well lit room works best.
Another way to decorate your home so it breathes an industrial design is to use art works. Bold graphics, murals or drawn symbols on the wall will instantly give everything an industrial accent.
Use ideas like symbols, numbers and letters, or some abstract painting.
Fireplaces and walls can be often be decorated in an industrial way by adding raw exposed materials as the final touch, and the rest of your room will stay modern and contemporary.
Last decade
During the last decade, there has been an increase of making industrial furniture. It can be seen in bedrooms and living room with minimal details and simple materials. Simple cast iron for the bed can be formal or non formal depending on the sheets you pick, while pairing the same style with your lighting can give it the look of industrial chic in your room.
Industrial design is not just for use in the interior of your home, it can also be used outside, like industrial outside lighting, or big light bulbs with exposed thick cables. Are you ready to add touch of history to your home?
Michael B. is a creative freelance writer for industries that include but are not limited to the home decor, lifestyle, travel, entertainment, and much more. When not blogging, he likes to travel and read a lot.