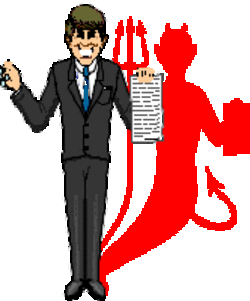 There are some lawyers out in the world who are interested solely in making money. They do not care for the seriousness of the case or the ways in which they can protect clients. However, some might make you feel like they care for your concerns and problems, but might be just ripping you off to make easy and quick money.
If you have been scammed before, or afraid that you might be or are just new to hiring a lawyer, look out for the things mentioned below. Below are mentioned some of the sly ways in which lawyers try to rip their customers off.
1. They might bill you twice
There is no one else who knows your stress more than your lawyer, and not every lawyer will take that into consideration. Some might even see your stress to their own benefit and end up billing you twice. A lawyer is not the only person who should remain proactive during a case, you should as well. In order to prevent a lawyer from taking advantage, ensure you have a copy for everything. Otherwise a lawyer might bill you at the beginning and end of the case.
2. Giving in more than required hours
If you lack a fair idea of how the field of law works, then this is most likely to happen to you. Often, when lawyers see that their client does not pay heed or knows what their lawyer is doing, they pad their hours. This means that they give in more than required hours to the job without being too productive. This way, not only is the case delayed but the client ends up paying for hours when the lawyer is doing absolutely nothing.
3. Know what you are paying for
This is commonly decided before a contract is signed and the case is officially given to the lawyer. If you have not agreed on paying for your lawyers food, air conditioning and car petrol, ensure these items are not mentioned in the bill. Sometimes, lawyers charge extra because they try to squeeze in their personal expenses in a heavy bill. Do not pay whatever sum is demanded of you; ask for an explanation if you feel like you are being charged unreasonably.
4. Do certain things yourself
If you feel like your lawyer is already too expensive and is charging you a little too much for simply picking up a certain document from somewhere, do the task yourself. Certain lawyers turn rather trivial tasks to very significant ones and claim their bills on the basis of it. Save yourself from being ripped off this way. If it is about making a payment or transporting documents, do it yourself. Not only will this reduce your overall cost but will also keep you informed regarding the case.
5. Keep accounts
Lastly, keep accounts of everything your lawyer claims to be doing. This can be done by keeping receipts with you. Otherwise, your lawyer might just tell you a sum that has to be reimbursed without any proof if the money was indeed spent for the benefit of your case.
This way, you will save money and keep your lawyer on his toes.
Austin Reynolds is the writer of the above article. He highly recommends djpsolicitors.com for their superior services and honest rates.