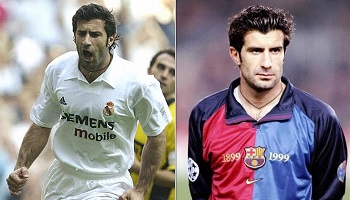 The build up to the 2015-16 Premier League season is already a miserable one for Liverpool fans. Raheem Sterling looks set to finally up sticks and move to Manchester City, having thrown what looks to be an unprecedented hissy fit – refusing to play, refusing to leave the house, refusing to even speak to the manager. Toys have been launched from the proverbial pram.
But Liverpool fans can console themselves with the thought of £49 million and all of the players that could buy to make up for the departures this season – though consider that the sale of Fernando Torres financed game-changing moves for an even better player. We refer, of course, to Andy Carroll.
Sky have secured the rights for the lion's share of this season's televised Premier League games and so those looking to take advantage can do so by signing up via their website, or using the direct number provided at www.skytelephonenumber.com. Meanwhile, let's take a look at some of football history's most properly controversial transfers – ones which make Sterling's Machiavellian antics look positively benign.
Roberto Baggio
In 1990 a new world transfer record of £8 million was set when the famously ponytailed Italian swapped the purple of his home club of Fiorentina with the distinctive black-and-white stripes of Juventus, where he would inherit the number 10 shirt made famous by Michel Platini. At the time Baggio was nearing the peak of his powers and so the move was not one which went down well on the streets of Florence. During the ensuing riots, more than fifty people were injured and a further nine were arrested.
The move did not go down swimmingly with Juventus fans either, as Baggio refused to wear the Juventus scarf when presented by the club. Things got even more strained when, during the first meeting between the two clubs, Baggio refused to take a penalty, claiming that Gianmatteo Mereggini, the Fiorentina goalkeeper, had already faced thousands of penalties from him in training. The duty fell instead to Luigi De Agostini, who stepped up and obligingly missed.
Still, Baggio's career managed to go on. He went on to enjoy a prolific five-year tenure at Juventus, during which he bagged a whopping 78 goals in 141 games, well and truly endearig him to the Bianconeri faithful.
Sol Campbell
Sol Campbell's move from Tottenham to Arsenal was among the most shocking transfers in Premier League history, in part because it was conducted with such ruthless efficiency. Unlike the modern transfer saga, which tends to rumble on for months, Cambell's switch was completed within the first few days of the summer window. Campbell was considered among the best defenders in the world and so had attracted the attention of European giants like Barcelona and AC Milan – few suspected that his destination lay so close to home.
Campbell had repeatedly offered Spurs fans his sincerest assurances that he was keen to remain in North London. And remain in North London he did – just not in the way that Spurs fans would have liked. To make matters even more galling, Campbell went on to enjoy enormous amounts of success at Arsenal, securing a Premier League title in his first season – and then, perhaps even more painfully, winning the league at White Hart Lane just two years later.
Luis Figo
The world record transfer fee was again smashed to smithereens in the year 2000, when Barcelona sold their captain Luis Figo to their most hated rivals, Real Madrid, for a whopping £37 million, heralding the so-called Galactico era of spending by Real Madrid's new president Florentino Perez, which would see huge fees proffered for the services of Zidane, Ronaldo and Beckham over the coming years.
But it was Figo's move that was to prove the most controversial. He had established himself as one of the world's best players in a Barcelona shirt – to the extent that he would win FIFA World Player of the Year in the November following the transfer, largely in recognition of his achievements at the Camp Nou.
This was a betrayal which the Catalan fans were not about to forgive. When he returned to the Camp Nou, he found that it had turned into a seething caldera of hate, where his every touch was met with a chorus of deafening boos and a whole host of projectiles were lobbed onto the pitch, including the head of a pig. So great was the hostility that Figo, Real Madrid's usual corner-taker, would not go near the corners, for fear of attracting missiles and verbal abuse. Madrid lost the game 2-0, but Figo was to have the last laugh, going on to win La Liga that year and the Champions League the year after.