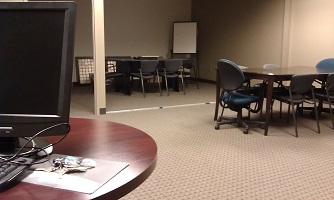 Shared workspaces
In an ideal world you'd be able to rent a luxury office and fill it with countless employees, all of which will turn your business idea into a billion pound operation. But the aforementioned simply isn't the real world and you need to save money rather than spend it during your company's formative years.
If your business runs off just a laptop and a smartphone, then heading into a shared workspace can be financially and creatively rewarding. These premises bring together various businesses under one roof through a "rent by the desk" setup. Shared workspaces offer a real office rental alternative and are a great way to save money.
Online printing services
In the late 1990s and early 2000s the only way to ensure that you got high-quality printed products was to visit a high street print shop. This method was often expensive and slow, but these days online printing is the best way to get hold of printed supplies.
If you're a new business that needs to create flyers, business cards, brochures, or hand-outs, then head online. Plenty of websites now offer cheap and affordable printing services that won't leave a dent in your start-up funds.
Virtual front desks
Bringing on a full-time receptionist can be a costly decision. While it is always nice to have someone front of house for image reasons, these days you can actually outsource the tasks that a receptionist would usually handle to a virtual front desk.
For example, if you're an upstart business that receives a lot of daily emails, you can hire a freelance virtual assistant to handle the flow and keep your inbox organised.
The same also applies to incoming calls, as a virtual receptionist can take messages, note voicemails, and filter out the real calls from the cold calls. Virtual front desks may not give you a front of house image, but they sure are a great way to save money.
Change your phone provider
A business can't survive without a phone, as it will be your connection to your client base. But if you think you can run a business off a standard pay-monthly or pay-as-you-go phone plan you need to think again. Not accommodating for your business operations can prove costly, so it needs to be addressed. Think about the calls you are making per month and look to upgrade your plan to avoid paying those costly out-of-plan call and texts charges.
Second hand office furniture
If you do go the traditional office route then you need to look at the most obvious way to save money. While it would be nice to buy brand new office furniture, you need to think realistically.
By buying used office furniture you'll often find that you can save money while still getting your hands on high-quality items. You will also find that used office furniture offers lesser levels of depreciation and can be delivered to you in a matter of days rather than weeks.
There are many ways to save money when starting up a business. One of the biggest challenges for all businesses is keeping expenses down so that profit margins can be extended.
Ben Livings is the director Sadlers Farm Office Furniture. His company supplies new and used office furniture for local businesses.