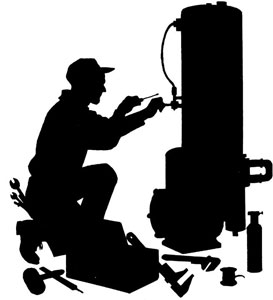 Heating that works efficiently is one of the requirements for a safe and happy home. It is a requirement no matter if you live in the plains of Texas or the mountainous areas of Colorado. It makes it possible to live through those cold days that inevitably hit during the Winter.
Acquiring heating is something that most people can do. Professionals capable of installing and repairing heating systems reside all over the country, and it is possible for homeowners to fix their own heating systems via DIY methods.
The challenge is deciding which of these two methods is best for you.
Should you fix your own heating system or pay a professional to do it for you? What risks are associated with doing your own repairs? What hidden costs might be associated with DIY repairs? Let's answer these questions and more.
DIY Fixes Versus Professional Repairs
Do-it-yourself heating repairs can provide a short-term solution when you're in need of heat. They're designed to fix simple issues in ways that the typical homeowner will be able to perform without having an education in heating and air installation.
The problem with DIY is that the amount of repairs you can safely make are limited by your knowledge and skills. You may not be able to replace things like the heating element, which in turn requires you to use methods that can be potentially dangerous to keep the heat flowing through your home.
In these types of situations, DIY "repairs" are more like workarounds. They are designed to be temporary until you can get an actual professional to diagnose and repair the problem.
Professionals, on the other hand, have access to both the knowledge and tools required to diagnose problems. They can determine not only why heating fails to work, but also if your system has any flaws or problems that may prevent it from working efficiently. They can trace the source of things like leaks given their unique understanding.
The best part has to deal with the added assurance of quality that they bring. Their skills make it next to impossible to make novice mistakes, which means that you should only have to pay for the replacement of failing components. You don't have to worry about damaging something yourself.
What Risks Does DIY Involve?
Understanding the risks of DIY heating repairs can help you decide if they're right for you. Some of these risks may even help you decide to use a professional for your repairs to save money, time and headaches.
Assume that you're not getting enough heat from your system. You use a DIY repair that makes your system produce more heat at the cost of lowering the overall life of your heating system. This can work for some time, but it will inevitably amount to costly repairs.
When the component under additional stress burns out, it may catch fire. This could amount to even more repairs and a potential loss of life.
Another risk of DIY repairs concerns the efficiency of your heating system. You may end up making your system inefficient and strained even further by performing just DIY repairs. Things like leaking vents may go unsealed, which results in your heating being forced to work even harder.
The biggest risk that DIY heating repair involves concerns carbon monoxide poisoning. Carbon monoxide is an odorless gas that can only be detected with special equipment. Roughly 100 people have been reported to suffer from carbon monoxide poisoning that stemmed from DIY furnace repairs.
Cost of a Professional Versus a DIY Mistake
The cost of a professional can be as small as $50 for a check-up on your heating system to the cost of an entire replacement of your system, though the more expensive options seldom occur when a professional capable of repairing your system is called.
A DIY mistake could cost you far more than what it would to replace your system. A mistake as simple as failing to clean your burners could result in a large explosion, which could result in injury, destruction of your property and the complete replacement of your heating system.
The bottom line concerning DIY repairs is that they are sometimes okay to make, but you should opt for a professional when it comes to heating repair. They provide a safe way to fix your system without forcing yourself to undergo unnecessary risk of life and property.
Charlie Teschner started MESA Plumbing, Heating, and Cooling in 1982. Charlie has a journeyman and master plumber's license. He was raised with a strong work ethic and he now applies those values to tasks such as Longmont, CO heating repair.