A long time ago, an elegant house was a house filled with layers of fabric and weaves…
Those layered homes, with the pap details paired to perfection look very old fashioned to us. What is the new meaning of elegance in design? How do you define an elegant home in 2015?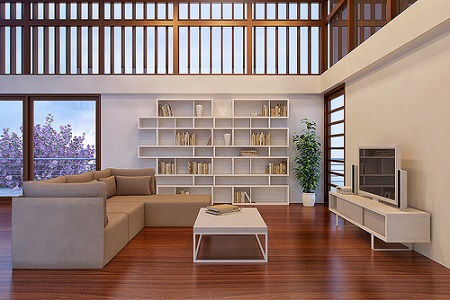 Pure lines and minimalism
We all know the modern homes, filled with very little furniture. Minimalism has its advantages: no mess, very little dusting and cleaning, simple floors and the feeling of relief when coming home from a hard days work.
We believe that elegance in 2015 is based on pure lines, and you can achieve that by avoiding piling up things and by choosing simple furniture.
Minimalism makes a lot of sense, it also helps architectural elements to stand out more.
But what if you are not a fan of minimalism? What if you don't like minimalism?
Besides the stated advantages of minimalist design, there are always those who want to be surrounded by furniture and the objects they love. They want a home that is pure and modern, but still, they want a family home.
Yes, pure lines are on the top of the list when it comes to elegance, but that doesn't mean that you have to have a minimalist home to achieve elegance. Every home that is decorated with character is elegant.
Smart organization is the key of elegance
With all the tablets, smart phones and computers, we really can't defend ourselves from the cables that stick out of every corner. There isn't a better way to ruin elegance, but with crowded corners, full of cables and electronic devices.
By having a plan for your home, how and where your electronics will stand, you will have much better organization in your home and less visible cables around the house. Some homes take a step further by having built in chargers, hidden electronics storages and similar things…
The color pallet for 2015
We can't speak of interior and elegance, if we don't speak about colors. Although they are a very personal choice, there are some warm colors that are on the market. Lighting is very important when it comes to colors. Choose the perfect color and match it with bad lighting, you won't get half the effect you would if you used proper lighting along with the proper color. Lots of light betters your mood, so open your Aluminum Venetian blinds or curtains, and let that light shine into your elegant home.
Some of you may already know that the winning color of 2015 is Marsala. Reddish, with a subtle seduction hint, it's a color that drags us into an overwhelming sensation of warmth. It sounds elegant, right? You may hear about some designers saying that the color is boring.
If you agree with the second opinion, then look for some other colors that are elegant. Mostly, they are warm tones of neutral colors.
Minimalism, pure lines, an eclectic mix and warm colors are the name of the game for elegance this year.
Milan Budimkic is a creative freelance writer for industries that include but are not limited to the home decor, travel, entertainment, and much more. When not blogging, Milan likes to travel and read a lot.