There is a common train of thought that suggests that you are either a city person or a country person. If you're anything like us, you're probably a touch greedy and want both. And why not? The countryside is beautiful and inspiring, whilst the city is convenient and social, surely if you could only bind the two together somehow…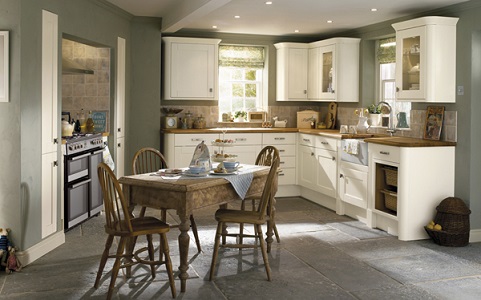 So you can't move the fields and trees into the city, but you can sneak in your own piece of the countryside in the form of a cottage. Interior design is a clever thing and the right dressings, the right paint and the right flooring can transport you from one place to another. When I was younger I had a room that we turned into a space craft, how hard could it be to turn your kitchen into a quaint little cottage?
Paint
If you want to bring the countryside into the city, your best bet is to move away from black and bright, unnatural colours. A lot of countryside homes make the most out of the light by using white, which should be pretty easy in a city apartment, or, and we prefer this one, cream.
Cream incapsulates that warm, earthy feel that cottages have. It increases light and adds character to a room. There are obviously varying types of cream, from a soft magnolia up until it reaches a creamy coffee colour. Depending on how much airiness you want in your room will depend on what colour you opt for, but we advise for a light to mid colour cream.
You can use only cream and rely on wood and accessories to accentuate your home or you can pick a highlight colour such as a soft green pastel to give it that countryside feel.
Cabinets
There are a number of specialists out there who can help you to pick the right cabinets for your home, and sometimes this is a great place to start. Once you have your basic kitchen created, the foundation has been set and you've got a base to work up from.
Again, you'll most likely be looking for cream, brown or wooden colours. If you do select wood you'll have to make sure that you select the same wood for your floor, or a wood that compliments.
Accessorise
The key to turning your city home into a gorgeous country cottage is to accessorise. There's no use having the right cabinets and paint work if you suddenly decide you want a modern art clock made of metal. Accessories are what set the scene and really accentuate your style.
For a cottage look you can display your white china dishes or your wooden fruit bowl, adorn the place with colourful flowers and hey presto, you're already well on your way to making that cottage in the city a reality. But you can't rely on the obvious things – it's all about the detail. Don't buy a bright red, plastic chopping board, make it a nice slate or wooden chopping board so that it suits your design.
Flooring
Flooring in a kitchen is always tough, because you want something that will stand the test of time. Linoleum is effective, but it is cheap and will discolour and damage easily. Tiles can be nice, but the best ones are often dark and can suck the light out of a room, entirely changing your look. Wood, however, offers you a whole host of possibilities and will match up nicely with any wood that you've selected for accessories or cabinets.
Wooden flooring in your home can really bring about that genuine cottage look you were going for, and it doesn't feel cold on your feet like tiles and linoleum – it gives you the whole package. The feel, the texture, the look.
If you want to bring the countryside into the city, you've got to go the whole hog and pay attention to details, otherwise you end up having a hodge-podge design that never quite accomplishes what you set out to do.
William Durrant is the managing director of Herringbone Kitchens, a Canterbury based kitchen designer and installer. For kitchen inspiration visit one of their kitchen showrooms in Kent.