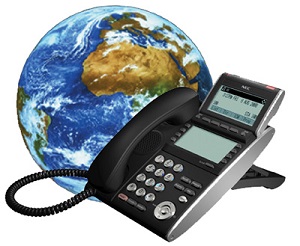 Things are competitive these days and a lot of companies are struggling, most small business owners are searching for ways to save money. There are many expenses involved in running a successful company, for a small company a large amount of money can go towards the phone system.
To help cut down on the expenses, many companies have turned to Internet phone systems – VoiP (Voice over Internet Protocol) is a much better alternative compared to traditional telephone systems. In this post we are going to tell you more about small business Internet phone systems and why you may need one.
You Can Save Money by Using Internet Phone Systems
Internet phone systems are taking the world by storm and there is a good reason for their popularity. This is because these systems have the capability to cut down the telephone expenses. VoIP phone systems will allow the individual to make a phone call by using a high speed Internet connection.
With an IP solution, a small business can save up to eighty percent. Plus, you also have to consider the fact that the sound quality will be much better than the sound quality coming from traditional lines. Did you know that VoIP to VoiP phone calls are usually free of charge?
Let's take a look at the terminology
Voice over IP is the terminology that is used to explain the transmission of phone calls that are using a data network. This concept is fairly basic and has made a major impact on businesses from around the world.
Let's take a look at some of the features a small business VoIP phone system has to offer:
Extensions – you can add extensions and update the phone function.
Call Forwarding – you can easily forward your calls with the push of a button.
Settings – you can control or modify the settings (it's hassle free).
Message forwarding – You can easily forward the messages to your mailbox and pick them up as voice data.
Logs – the system will keep logs of all incoming and outgoing phone activity. These logs can be accessed at any time, very handy for a call centre type of business.
Conference calls – this system makes conference calls easier than ever before. Conference calls can be initiated from any location.
VoiP systems can be managed easily via desktop software meaning you can do away with out of date, expensive and bulky equipment.
Now, do you see why so many businesses are starting to take advantage of Internet phone systems? Not only will these systems help save you money but they are also packed full with many useful features that are easy to use.
Today, many people are describing Voice over Internet Phone technology as the future when it comes to business communication – by using this form of technology, businesses will no longer be limited to the constraints that come with old telephone systems. So, what are you waiting for? If you own a small business, regardless of where you are, it is time to start looking into VoIP.
This post was supplied by Robbie who uses VOiP everyday and writes for www.voipbroker.co.uk.