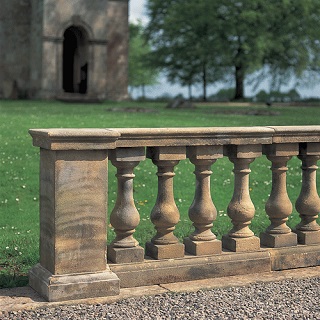 Natural stone has long been hailed as a timeless building material that looks fantastic when incorporated into a property. From period builds to more modern homes and businesses, stonework continues to be used to add character and class to architectural designs.
However it isn't just about the core four walls that make stone so versatile for construction; here are five popular stone features that can significantly improve the appearance and value of a building.
1. Stone Balustrades
Instead of settling for railings or fencings, stone balustrades add real grandeur to a property. They can be installed at the entrance to the house, around certain areas of your garden or grounds to distinguish them, or lining the border of your land, depending on your budget and taste. As such, bespoke stonework can really be an impressive feature for properties old and new.
2. Porticos
A distinct feature of stately homes, porticos aren't solely refined to these buildings, and when done tastefully can create an outstanding feature for the entrance of any residential or commercial property. Dry cast stone porticos looks just as outstanding on modern buildings as old ones, and a stone specialist can tailor a unique design to suit the property in question.
3. Columns
Reminiscent of Ancient Rome or Greece, many large architectural projects continue to use columns as a tried and tested way to make a building stand out. Perfect for stately homes, government buildings and large commercial developments, these are a fantastic architectural feature. Columns can be cast in a variety of natural stone materials to the exact specifications of a build, incorporating them into the property's design to enhance its kerb appeal.
4. Stone Cladding
Stone is a classic building material but one that can be out of budget when using it as the primary foundation of a property. For that reason, natural stone cladding is a popular alternative, creating an eye-catching façade with materials such as sandstone that cover the structure with an attractive and lasting finish. When using rain cladding, it can also protect your property from the elements by preventing moisture from getting trapped within the structure.
5. String Courses
When building a property from the ground up, there are various ways that you can make the design original and one-of-a-kind. Whether you are investing in a pure stone build or you simply want to include a few stone features into the property, string courses look fantastic running horizontally along the exterior. Breaking up the walls to give them texture and class, it's an interesting way to make your building unique.
From large scale projects to smaller improvements to a property, a stone specialist can give your building decorum and an air of elegance with bespoke features that will wow your visitors. A worthwhile investment for any property owner, these five popular designs are widely used in all types of buildings to give them the edge.
If you have incorporated stone into your property tell us all about it in the comments.
This article is written by Kelly Gilmour Grassam, a freelance copywriter from Yorkshire. You can follow her on Twitter at @KellygGrassam. This article has been written with helpful information from Henley Stone.