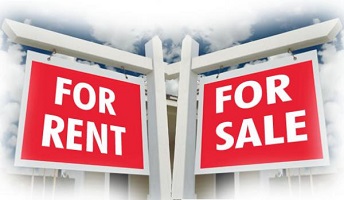 Traditionally, the UK has always been in favour of buying unlike the rest of Europe where renting is much more commonplace. However in recent years the tables have been turning in Britain, with property experts such as Kevin McCloud putting renting on the map as the way forward.
But timing is essential when making the decision to rent or buy, which is why we have some professional advice to help you weigh up the pros and cons of each option.
Buying
Getting on the property ladder is understandably seen as a priority for anyone reaching their 30s in the UK. Money spent on houses doesn't disappear, you're simply piling it at the side of the road to use later. Mortgages can be a huge expense for homeowners, but ultimately when you pay off your mortgage you can live rent free for the rest of your life. Homeowners are equity rich, even if at times they can be cash poor.
Having said this, a home demands more expenditure than the mortgage itself. Keeping up these payments is a huge responsibility, but on top of this you will also be required to meet any unexpected costs that running a household incurs, from DIY work to broken boilers. As such, it's important to take on a house only when you have a steady income that will comfortably cover your living costs – and a rainy day fund!
Renting
Whereas a generation ago it was common to stay in the same town or city for years at a time, nowadays people's lives are much more dynamic. A household is a big tie and one that many are unwilling to commit to until later on in life; renting gives the freedom to move location and rent properties that suit your budget and lifestyle at that point in time. What's more, the landlord will usually be responsible for any maintenance to the property, so after rent and bills your disposable income is free to spend as you choose.
However, renting shouldn't be seen as a permanent option if you want a security blanket in your later years. When you eventually retire, rent can be an unfeasible expense to upkeep, and ultimately money spent on rent is never seen again. Therefore, many people decide to buy a property at a stage in their life when they are looking to settle down in an area, usually when starting a family.
The decision to rent or buy is an extremely personal one, and unique to the circumstances of your work, finances and personal situation. Renting is often seen as the first step to buying, so if you aren't quite confident enough to buy a house yet, hold off on the decision until you're sure it's the right choice for you. Need expert advice? Head into your local estate agent to discuss your situation and see if you're in a strong enough position to buy.
Hope this helps in making the right decision for you.
This article is written by Kelly Gilmour Grassam, a freelance copywriter from Yorkshire. You can follow her on Twitter at @KellygGrassam. This article has been written with helpful information from ADM Residential.