So, you've just upgraded your home with a new conservatory? Well, you're in good company, as thousands of people do the same thing every year. Now that the dust has settled and you can enjoy this new addition to your property, you may be wondering how to decorate it and what to use it for?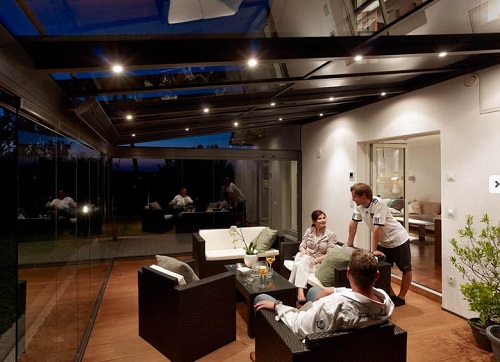 Well, don't worry – we've got seven of the best interior design ideas for you, so that your conservatory can be the most stunning room in your home.
The great outdoors
Bring the outside in by going for fresh greens as the base colours of your theme. Go with subtle colours such as white and grey for furniture and carpets and let your cushions and wallpapers speak for their selves. Leaves and tree prints will give you that botanical feel, as will some tall potted plants.
Seaside sensation
Nautical is a theme that never goes out of fashion, so why not take to the high seas with your décor? Go for blue and white if you're keeping it classic, or go for bold, candy coloured deckchair stripes if you want a more contemporary look. Finish the look with rope and shell accessories.
A place for the kids
Declare your conservatory an area for your little ones. Invest in plenty of storage for toys and paint it in fun, bright colours. As your conservatory leads onto your garden, it's a great place to store all of their outdoor toys too – so you can encourage them to get some fresh air.
Countryside charm
Country chic is all the rage at the moment, so why not turn your conservatory into your very own piece of rural idyll? Floral wallpaper, bunting and chunky oak furniture will all complete the look, as will a nice home-made cake waiting on the table!
A grown-up retreat
If your home is overrun with children's toys, then turn your conservatory into a strictly no kids zone! A big television, plush leather sofas, and even something like a hot tub will help you to create a space that's just for grown-ups.
Enrich your dining experiences
Try extending your kitchen and dining area out into the conservatory for a space that the whole family can enjoy. You could install and island or breakfast bar into your conservatory for a casual dining space, or even install a bar for some after dinner drinks! The spaces can be easily separated again with the help of some bi-folding doors.
Some sun-drenched style
If you're a lover of holidays in the sun, try injecting some Mediterranean cool into your conservatory. Bright yellows and blues, potted palm trees and water features all evoke that summertime feeling, so all you need to do is relax and pretend that you're soaking up some rays on a beach!
Seen something that you like from the above? We certainly hope so! A conservatory is a wonderful addition to any home and when utilised to its full potential, can become the most used and loved room in your property. So why delay in turning into the space of your dreams? There's only one limit, and that's your own imagination!
Mark Caulfield is the Founder of The Caulfield Conservatory Co, which has a team of talents and skilled architects that specialise in creating stunning bespoke conservatories for homes across the UK.