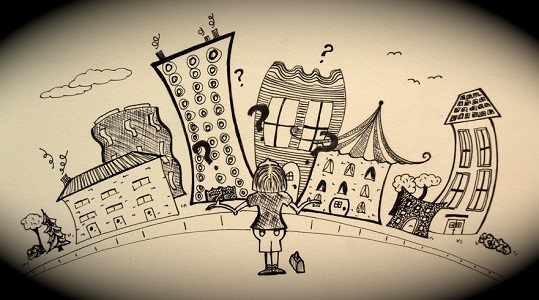 When moving to a new place and checking out apartments, you want to exercise caution, choose wisely and find a place you will truly enjoy. If you don't, you are going to hurt your sleep and enjoy life less. Simply put, where you live will determine a lot about your future, and you should have a brief checklist outlining what you want in an apartment.
Location: Now, a lot of people will move to a nice area that is far from their work. This is unwise as a long commute gets annoying. Think about it, if you spend 30 minutes a day driving each way, you are wasting 20 hours a month in a car. At the same time, it will cost you more money as you will have to pay for gas, maintenance and other things related to your car. For this reason, when searching for a place, you should take the time to think of your commute. That way, not only will you avoid long-term stress, but you will save cash. Furthermore, when looking at location, make sure to find apartment in a safe area as you will enjoy your place more if you are safe.
Neighbors: Without a doubt, if you have loud and obnoxious neighbors, you are going to suffer. Think about the average Friday night in a party house. If this is your neighbor, you are going to suffer from stress and sleep problems. To get an idea, you should ask around and chat up the neighbors. While there are no guarantees, you are going to have an easy time making an educated guess if you chat up the neighbors and see how they act around you.
Everything works: All-too-often, a renter will find a decent deal only to discover things are broken or appliances don't work that well. To get started, when you are at the place, you should first make sure everything works. At the same time, ask the owner or agent if they are up-to-date on their upgrades. Finally, if you can, choose a place with an on-site manager. That way, if things go wrong with your house or appliances, you are not going to struggle when you want to take a shower as someone can fix it quickly and easily.
The process to find you: Finally, if you want to find a nice place with great neighbors, you should look at the process, in detail. Think about what the owner wants and needs from you. If they ask for a credit check and actually check your references and call your job, you are going to stay in a better place. The reason for this may not seem obvious to everyone. But, if you rent a place where the owner or management company cares, you are in good hands as you will have great neighbors and you won't have to deal with issues as you can rest easy knowing that your landlord is not a slumlord. While this may seem time-consuming if you choose a place that asks for a lot, you can save money in the long run as you will find a place you can stay for a long time.
When looking for a place, remember to think of everything. If you do so, you can avoid common problems people face when getting a place to live.
This article was contributed by Trojan Place – a modern, upscale residential living and commercial office space in the heart of Jenks, Oklahoma.