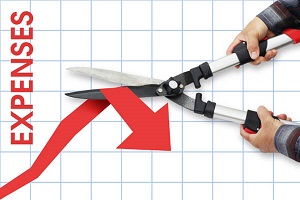 If your spending is consistently more than your income and you're struggling or you just want to save money, then you need to get it under control. So take charge of your finances, and follow this guide to reducing your spending.
A strict budget can help you control your spending. However, for a budget to work, you need to stick to it! Write down all your income and expenditure, and see how much you have coming in and going out. You can then allocate spare money to saving, or find ways of cutting costs to make ends meet. Yet this only works by being brutally honest about your finances and sticking to the plan.
Control the urge to spend frivolously. Before you buy anything, ask yourself honestly how it will improve your life. If you find this difficult, practice imagining how you will feel once the euphoria of the purchase has worn off.
Keep impulse buying in check by sleeping on it. Often, you will find the urge to spend has disappeared by the morning.
Activate bank account text alerts to send your bank balance to you and remind you of direct debits you need to pay. This will help you avoid being charged.
Use the library. Love reading? You can save a fortune by using the library, and can even order books you especially want to read.
Cancel TV or Gym Subscriptions. These may seem essential, but if you rarely use the gym or watch TV then this is a waste of money.
Get into cooking. Planning meals and buying fresh ingredients to make at home works out much cheaper than ready meals and eating out.
Invest in a bike. Want to get fit, lose weight, and save money? Then get on your bike! A moderate 30 minute bike ride to work will burn off between 200 – 400 calories and save you the train fare or petrol costs!
Try own brands. Supermarket own brands really are just the same. And they will save you lots on the weekly shop.
Phone your internet and mobile phone provider and ask for a better deal. They will often reduce the cost of your package if they think you'll go elsewhere.
Deal in cash only. Leave the credit cards at home.
Use Charity Shops and Ebay. You can get most of what you need.
Travel more cheaply on trains by booking in advance. Or check out car sharing websites to see if anyone is going your way.
Track your expenses for a month. Keeping a notebook or using an online tool to track your finances will show where and how you spend.
Use a petrol price checker online for the cheapest fuel in your area.
Do It Yourself. Need to paint the house or do repairs? Learn how to do these things yourself to save hundreds.
Always research big ticket items online to save large amounts.
Pay off high interest debts.
Invest in a flask and lunchbox for taking to work.
Change your thinking. It can take time, but weaning yourself from spending unnecessarily is possible.
By Harry Price
Harry Price is a mutli talented young man.  In addition to writing, he is an artist and teaches foreign students english.