Although the weather isn't ideal, the winter can often be the most convenient time for homeowners to renovate their property. Over the holiday period you can spend more time at home fixing the niggling problems which have irritated you all year round. However, due to the outside conditions, you need to treat renovations a little differently at this time of year.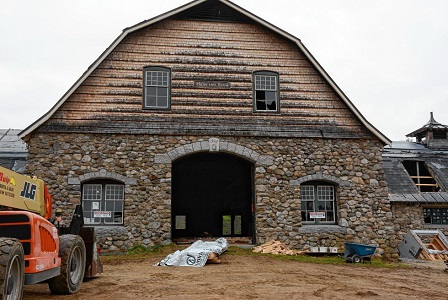 Below are just a few precautions you should take.
Trakmats
When renovating your house it's likely you're going to have heavy vehicles or building materials being moved around your property. At any time of year it is important to look after your ground or lawn. However, this is particularly salient in the winter. Due to rain and frost, your lawn is more than likely to become cut up. And further to this, any surface is more likely to become dangerous to tread on.
Therefore, it is important to lay down trakmats. Trakmats are durable and versatile tracks which provide walkways across the site. And as well as protecting the ground, they provide anti-slip surfaces, increasing safety for anyone on the property.
If you renovate buildings a lot, it may be better to buy Trakmats instead of renting them. This will be more cost-effective in the long run.
Other precautions
It's usual to see temporary fencing on building sites. Temporary fencing protects people both on the site and off of it by enclosing the renovations. It acts as a visual signal to people in the public, warning them to steer clear, as renovations – or at least the materials used during a renovation – can often be dangerous.
This is especially important in the winter. Unauthorised access by people who aren't wearing the correct safety equipment is always a danger. And in the winter trespassing can be even more of a risk, due to poor light and because of the added weather-related dangers affecting the site. Therefore, temporary fencing is increasingly useful to look after the site and keep away other pedestrians.
The final two points are general precautions to take which are particularly important if people are still living in the house. Firstly, when renovating, you are more likely to have some important pipes exposed. And these should be insulated. Otherwise they may be liable to freeze due to the winter climes, and subsequently burst.
Finally, it may be useful to use a back-up generator for the household in case your renovations cause the power to go out. Not only would this be an inconvenience to the house in terms of using appliances, it could also cause more serious problems, including affecting heating or security alarms.
As long as these precautions are followed you shouldn't encounter too many problems with your renovations. Of course, not all of these may be applicable for your particular works. Nor might they be the only things you should consider. However, during the winter it is important to perhaps be more cautious than you would be at any time of the year, to keep both your property and the people surrounding it safe.
Henry Savage is the Director for ground protection and trakmat hire company – All Weather Access. Henry knows all too well what kind of damage can be created when carrying out work on your house, and has a wealth of knowledge in the ground protection industry.