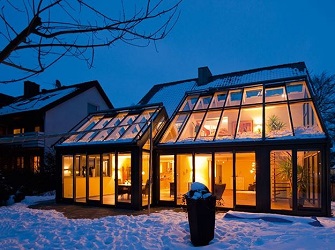 A conservatory is a great way of bring the outside into your home. During the summer months, you can open the doors and let the sunlight stream in through the windows – but how can you enjoy it in the winter? Conservatories are notorious for being freezing cold during the winter months, with some home owners not even setting foot in the until the spring.
When you have such a stunning addition to your home, it seems a shame not to enjoy it all year round, so we've got three tips to take your conservatory from chilly to cosy.
Create some heat
Creating some heat is the first step to making your conservatory comfortable enough to enjoy during the winter. There are a number of ways you can do this, installing radiators being the most expensive but in turn, the most effective. If you're on a budget, a small electric heater or fireplace is great, but you'll need a power socket to run it from. Candles are great too and, as well as generating warmth, they create a real cosy atmosphere in your conservatory.
Keep that heat inside
Keep that heat inside by investing in some clever accessories. Draught excluders are a must when you've got doors leading to and from your garden, as the slightest little gap can let all the warm air out and all the cold air in. This means that it's also a good idea to check that all of the seals and windows are in good condition. Curtains and blinds are a good option if you are on a budget, as they keep a significant amount of heat in too. Bi-folding doors are a great way of keeping heat inside too – and they're easily folded back when you want to open up your living space.
A longer-term solution
Insulation is something that not many conservatory owners consider, fearing that it will be too disruptive and expensive. Well, it's actually a lot simpler than you think. A trained professional will install it, putting aluminum insulation material into the roof of your conservatory and then boarding over it, leaving no trace of any disturbance. Yes, it's a slightly bigger outlay, but it's a long term solution that will keep your conservatory warm year after year.
Enjoy your conservatory this winter
When you're trying to keep your conservatory warm, there are many things to factor into your decision. How much you are willing to spend can make a lot of difference, as a smaller budget often means a shorter term fix. The design of your conservatory can also make a difference, as a glass roof can't be insulated – so you may need to look at changing that if it's causing a problem. It's important to evaluate everything before you decide to go ahead with big, structural projects.
There will be an option for you though, so don't get disheartened. A conservatory is a lovely addition to any home, so it makes sense to enjoy it all year round. After all, where else in your home will you get a better view of the winter weather?
Mark Caulfield is the Founder of bespoke conservatory designers The Caulfield Conservatory Co based in Harrogate.