Are you planning a substantial kitchen renovation for your home? Maybe you are building a new home and are contemplating your options for a new countertop to put in your kitchen. If so, a granite countertop may be an excellent choice. Granite countertops offer amazing resilience to kitchen chores and stand up to daily life.
They are also remarkably easy to care for, and they look great in your home for a very long time. Granite countertops come in a variety of colors and you will definitely be able to find a color pattern that will coordinate with your home.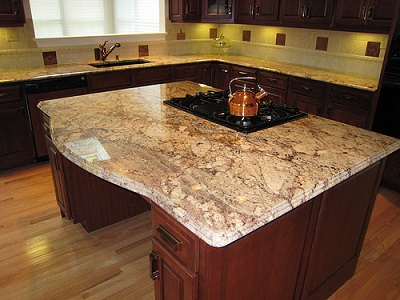 Let's discuss in detail why granite is such a premier, popular choice for kitchen countertops.
It stands up to a lot of wear and tear
If you have a family, a granite countertop is a great option. Those young children spill things all the time, and you don't have to worry about stains with granite. You also don't have to worry about it when a young cook (or maybe even yourself) accidentally puts a hot pot or pan onto the granite surface. Granite can hold up to a significant amount of heat.
The countertop won't even stain when you have a get-together at your home and a guest forgets to use a coaster. Your granite can take it, and stand up to all of this abuse. This is because granite is one of the hardest natural stones, so it is extremely difficult to chip or crack a slab of granite. What this means is that a granite countertop is fairly stress-free, and you don't have to worry about your kitchen countertops being ruined by a careless mistake.
Granite is really easy to clean
Another benefit to your family of installing granite countertops is that they are incredibly easy to care for. Granite countertops also do not hold bacteria like laminate counters do. They are completely sanitary when they are cleaned with soap and water. All you need to keep your countertop looking amazing is the application of a sealant once a year. Just be careful not to put sealant over any stains or they could become permanent!
Also, make sure that you avoid acidic liquids and foods as these can wear away the sealant if they are left on the counter for an extended period of time. It's a definite advantage that granite is so low-maintenance and easy to care for.
Granite countertops hold their value
Granite countertops are extremely tough and durable. It takes a lot to damage them. This is why they hold their value so well when you install them in your home. With a regular application of sealant, they stay looking shiny and beautiful for decades. They are also a highly sought-after feature when home buyers are considering a purchase. If you ever sell your home, you won't have to worry about a conscientious home owner pointing out flaws in the granite countertops; there won't be any—even after years of use.
Granite countertops come in a wide variety of colors
If you are considering installing granite countertops, you can guarantee you will find a slab that will look great in your home. Granite has a diverse color palate and can come in almost any color that suits your taste. The patterns in granite can also be equally interesting; they can be speckled, patchy, or have contrasting veins. This is because of the different locations where granite is found. No two granite slabs are alike. You are getting a unique piece of art that the earth has created in your kitchen.
Many people love the aesthetic and durability of granite countertops. They add a polish and shine to any home. If you have a family it is a great option because granite countertops can stand up to almost anything your family does to it, while also being really easy to clean. These countertops also add value to your home and are a sought-after feature by house hunters, if you should ever desire to sell your home. People also appreciate granite because of its distinct features and character; granite slabs offer something unique and beautiful to those willing to make the investment.
This article was written by Jenny Sawyer, who believes that granite countertops are a great choice for your kitchen.