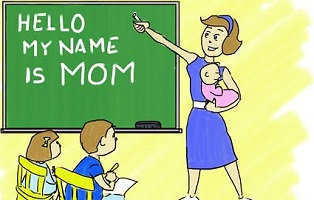 Homeschooling has many fans among parents and specialists alike. Experts in child education point out that homeschooling is a great alternative for children, who have a hard time adjusting to public school, have special learning needs or are exceptionally bright. If you think that homeschooling might be what your children need, check the details to plan all your activities ahead.
Legal matters first
The first thing you need to do is to check whether homeschooling is legal in your country. In the United States, homeschooling is legal, however the official requirements are different for each of the states. For example, in California homeschooling is legal only if you establish and register a private school, where you can teach your children.
In Pennsylvania homeschooling can take place at home, however children taught this way need to take standardized tests every 2-3 years. Before you make any plans regarding homeschooling your children, you need to be aware of these state and country specific requirements. How to learn more about the requirements? Start by contacting a local homeschooling group and ask other parents what they had to do. Next, call your local school district to receive more information about how to withdraw your child from school without breaking any laws (every school district has its own formal procedures for withdrawing).
Choose your method
If homeschooling is allowed in your country and there are no special requirements regarding the methods used for teaching, it means that you have multiple options to choose from and few more things to consider. First of all, do you plan to teach your children in a similar manner to the public school system? Then the classic, structured method based on common curricula is the choice for you.
The advantage of this method is that you can easily find textbooks and lesson plans, which you can adapt to your homeschooling sessions. For some parents homeschooling is an opportunity to detach themselves from the school system they never supported and choose "un-schooling" instead. "Un-schooling" is a teaching method, where the course of learning and progressing is decided by the students, not by the teacher.
You should also take into account your own predispositions – do you plan to teach your children all by yourself? The older your children gets, the more difficult it will be for you to act as an expert in everything and teach your children about science and math. This is why you should consider hiring a personal tutor or register your children at math workshops, where they can interact with other kids and learn advanced mathematics.
Join a local group
Most homeschooling parents would probably agree that the first year is the most difficult one, because there is so much to learn about homeschooling and so many small problems to solve. Local homeschooling groups offer invaluable support and they can also help you make crucial decisions. If you are not sure which teaching method works best in practice, ask your fellow homeschoolers.
If you need help with understanding the math curriculum or you are in need of a good tutor/ math program, other homeschooling parents should be able to recommend you the best experts in the field. And if there are no homeschooling groups in your vicinity, go online and join one a forum or a discussion group for homeschooling parents.
Marta Gromadzka is a writer and editor with a wide variety of experience, including writing for websites internationally and editing books on many different subjects and in a variety of formats.