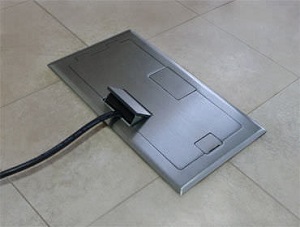 Our homes, offices and work spaces are no longer simply boxes with four walls and a door. We are working in large warehouses, living in old warehouses or commercial buildings, working on platforms or stages, surrounding ourselves by unique spaces – unfortunately these spaces are not always conducive to traditional approaches to addressing power, A/V requirements.
Wall unit electrical outlets are not necessarily an option in these types of spaces. So what can we use for conference rooms, auditoriums, courtrooms, hotel lobbies, places of worship, etc.? Another option that is becoming more and more common in both residential and commercial applications are floor boxes. These provide an excellent and cost effective solution for power, communication and Audio/video requirements in open and unique spaces.
What are Electrical Floor boxes?
Electrical floor boxes provide the same options that traditional wall units would. They are designed to address any conceivable need or use including potential future uses. The electrical boxes can be set up to meet all power, communications and audio/video needs. These electrical boxes take into consideration the need for durability, flexibility, ease of installation, design consciousness and range in materials to accommodate any space, style or design – ensuring a flush approach creates a seamless floor.
Sealing to keep out dust and moisture is key to protecting the functionality and security of the equipment. Electrical floor boxes come in a range of styles, sizes and materials from wood, steel, cast iron, concrete and nonmetallic or plastic floor boxes. This allows for use of electrical floor boxes in both residential and commercial applications and can become part of any space design.
Why use electrical floor boxes?
Creating the perfect space is no longer about working within the traditional confines – there are as many options to restructure, redesign and rework a space as there are ideas. We are no longer confined to create our floor plans based on where the builders have decided to put the floor vents, wall outlets, lights, etc.
If we can conceive of a new set-up then we can find the technology to make it work. For that reason, the first thing that comes to mind as to why you should use electrical floor boxes is for their convenience – you can look at any space as a blank slate, design based on need, interest and creativity and then address the electrical considerations. Installing floor boxes is a design with function in mind. It allows you to plug in any electrical devices without the need for unsightly extension cords, or multiple cords stretching across a room creating a tripping hazard. This creates a more seamless approach, allows for safety without having to tape down cords, and creates the flexibility in any space for interior designing and efficiency.
We want to make the space we spend time in to reflect our personal taste, have that personal touch that helps it become a loved space – so why should we have to create designs that reflect the locations of electrical outlets when we can work with electricians and put these necessary outlets where we want them and have them become part of the design itself?
Alcon Lighting
Here at Alcon Lighting you can trust us to help you with all your lighting and electrical needs. We opened our doors in 1987, primarily to sell electrical supplies. We evolved with the times and in 2002 shifted towards energy efficient lighting, and LED lights. We have continued this evolution and can proudly say that, now, with access to over 300 lighting manufacturers (80% of which focus solely on energy efficient lighting) Alcon Lighting has become highly recognized as a leading energy efficient lighting distributor. Shifting from simply sales, we now specialize in 4 core services: wholesale lighting supplies, product distribution, residential and commercial lighting design, and lighting retrofit consultation.
What Electrical boxes does Alcon Lighting have to offer?
Alcon Lighting offers electrical floor boxes and plates that are sleek, durable and dependable. We can work with you to retrofit our electrical floor boxes to any existing room, or to any design in the making. We have a wide range of products that can fit any need.
For more information about our products or services, check out our website at http://www.alconlighting.com/electrical/floor-boxes-floor-plates.html/ or contact us via http://www.alconlighting.com/support/contact-us.
Lloyd Cleve, is a well known writer who has covered a wide array of subjects so far. He covers the topics related to electrical floor boxes and plates in this article.