Cladding provides an attractive finish to the exterior walls of a property, especially when you invest in quality natural stone cladding. However the benefits of this system aren't purely aesthetic, as this extra layer of protection for your property also has various practical benefits that make it an increasingly popular choice throughout the UK and increasingly throughout the Western world.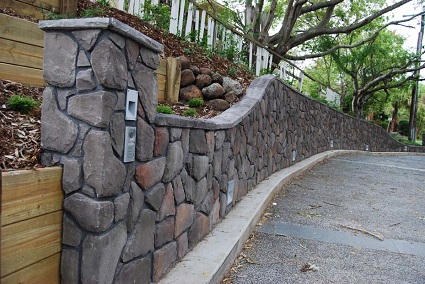 Much more affordable than choosing natural stone for the entire structure of a building, it is a smart solution and a long-lasting one too. Let's take a look at how this type of cladding protects your property.
Rain & Frost Resistant
Over time the elements can have a serious effect on the structure of a property, making it look worn and even reducing its underlying stability. Wet and cold weather can be particularly detrimental to a building, as rain is absorbed by the exterior walls and can later get trapped. When it freezes, this can fundamentally alter the structure of a building, with serious instances resulting in subsidence or crumbling of brick or stonework.
Natural stone cladding is extremely durable, and protects the structure of the property from the elements with a lightweight but resistant layer that allows moisture to breathe without getting trapped beneath the surface. There are various types of systems available, such as rainscreen cladding, however a professional stone mason will be able to recommend the best suited to your property, and ensure that the fitting is done to a high standard.
Insulation & Energy Efficiency
When seeking to make your home more energy efficient and ultimately warmer, many people focus on interior improvements to keep the heat in. However exterior stone cladding can also work to insulate your home, by preventing cold air from entering the property during the winter. Meanwhile, in the summer it will also keep your house cool, by trapping out the heat and humidity. Therefore stone cladding is a smart choice for reducing your utility bills and making your home more energy efficient… as well as pleasant to be in!
Noise Pollution
Although this benefit isn't so much related to the structure of the property itself, by reinforcing your walls with cladding you can reduce noise pollution from outside to make your home a much quieter place to live. So if you are on a main road or in a busy city, this system can really take the edge off the sounds of the traffic and the activity of the street outside. Plus, when you come to sell, it will make your property much more appealing to a potential buyer.
Add real value to your home through structural, aesthetic and practical improvements by investing in natural stone cladding to reinforce the exterior of your property. A quality choice that brings a wide range of benefits to any homeowner, there are plenty of designs to choose from that will give your home an attractive façade and a lasting solution to protect your exterior. Have a look and see if stone cladding is the choice for you.
This article is written by Kelly Gilmour Grassam, a freelance copywriter from Yorkshire. You can follow her on Twitter at @KellygGrassam. This article has been written with helpful information from Henley Stone.