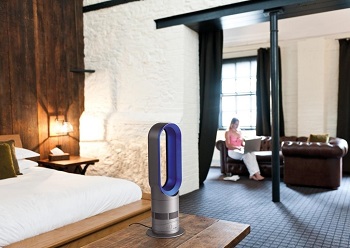 People who live in areas that will soon be experiencing frigid temperatures must explore every option when it comes to heating. It is simply not efficient to heat every room of the house at all times when temperatures are at their extremes.
Central heating also often fails when it comes to providing the kind of warmth that people desire. Staying warm and cozy throughout the winter demands exploring the hidden potential in personal space heaters. When using the right personal heater, you can tackle the cold with efficiency and without any fears concerning electrical dangers.
Explore the following space heaters that are at the top of their game in order to discover a new kind of comfort this winter at a price that is certainly affordable.
Honeywell Surround Select
This ceramic space heater features a wonderful design that allows it to surpass the majority of its competition. The Honeywell unit offers 360-degree heat, allowing it to easily warm an entire room even when multiple parties are present. Because the heat is delivered in the round, entertaining during the winter is no longer a concern due to comfort. This unit works so well that it is even rated for use in outdoor spaces during blustery weather. Parties on a deck can move forward comfortably when the Honeywell Select unit is in place.
Another added advantage is that the unit can be adjusted in order to accommodate a single person. The back closes so that the heat can be focused in one single direction. The Surround Select measures 17 inches and automatically turns itself off when tipped. The efficiency of the unit is top notch as well, allowing users to adjust the heat level on both the fan and normal settings. The only drawback is the fact that metal grate gets fairly warm during extended periods of operation.
Dyson Hot
Some personal space heaters distinguish themselves based on both their performance as well as their design. In these two respects, the Dyson Hot really excels. The elliptical design is pleasing to the eye while its innovative technology works quickly to heat the surrounding environment. It is also perfect for zone heating, allowing the user to direct heat towards areas of the home that are especially cold. Hitting frigid spots in any room is extremely easy due to the unit's ability to pivot and angle.
This Dyson unit also takes a page out the handbook of all effective fans. It can be set to oscillate, evenly distributing heat throughout an impressive amount of interior space. The Dyson includes a remote that allows users to control its setting from virtually any place in the room as well. Safety is no concern with this unit because it has numerous built-in features for protection that includes a self-initiated off switch when tipped. Standing at 23 inches tall and coming at a fair price, this unit will change the way you thinking about heating every space in your home or office.
De Longhi Fan
This heater is among the most kid-friendly units available on the market today. It also comes with an extremely family-friendly price tag as well. The design takes advantage of thorough insulation without causing any real deduction in radiant heat. The plastic grating always remains cool while any disturbance to its operation causes the unit to shut off. Even placing the unit too close to clothing will cause the safety mechanism to shut down operations. It comes in a range of colors and is sure to satisfy any family looking for warmth.
Charlie Teschner started MESA Plumbing, Heating, and Cooling in 1982. Charlie has a journeyman and master plumber's license. He was raised with a strong work ethic and he now applies those values to tasks such as Boulder heating repair.