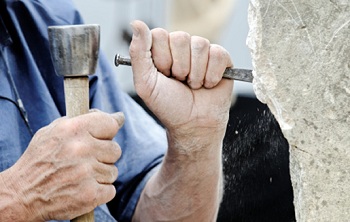 If you enjoy the great outdoors and have a passion for practical work, then jobs in construction are an ideal way to direct your skills and interests towards a highly valued job. Stonemasonry is a respected and profitable profession with attractive career prospects; this historic trade is still pivotal to modern building requirements, and offers the chance to master a timeless skill that is always in demand.
Stonemasons prepare, dress and set stone for a variety of uses, from natural stone paving to huge stately home projects. As such, it is a career full of opportunity to advance and gain valuable experience.
What Does a Stonemason Do?
From restoring period properties to constructing new builds from scratch, stone masonry is a varied role that is by no means repetitive. Whether you choose to specialise in the carving and shaping process, or the installation of natural stone for clients, you work with a diverse range of materials to form impressive end results.
Crafting in the workshop as a banker mason involves working with a range of equipment to cut and shape stone to clients' requirements. Meanwhile a fixer mason focuses on the installation process, where you will often be working at height in sun, rain and wind. As a result, this profession is mostly dominated by men, or at least individuals who are comfortable with heights and working outdoors, and able to lift heavy objects.
On average, a stone mason tends to work around 40 hours a week, although seasonal fluctuations and big projects can of course alter this. Like most professions, the salary as a stone mason increases with experience. Starting salaries can be anywhere between £15,000 and £20,000 for someone who has completed an apprenticeship, whilst this figure can increase to upwards of £30,000 for head stone masons and the most experienced in the profession. Within a stone masonry specialist company, there are opportunities to gain more responsibility and therefore climb the career ladder.
How to Become a Stone Mason
Experience is key to construction jobs, which makes apprenticeships an important step into this great profession. Apprenticeships usually last 3-4 years, and you can earn a small salary whilst gaining the necessary skills and experience you need to pursue this role as a long-term career option. Having said that, college qualifications are another route into the trade, and courses such as a Level 1 Award in Stone Masonry Operations, or any relevant construction qualifications, can offer a valuable insight into the industry. However experience is still considered essential alongside these qualifications if you are to learn the tricks of the trade first-hand.
A respected profession that is pivotal for construction work throughout the country, an apprenticeship as a stonemason is an attractive opportunity for thousands of young skilled workers looking to develop an area of expertise. If you are hard working, physical fit and highly practical, then construction is a reliable sector to join, to gain skills in a job you can rely on for life.
This article is written by Kelly Gilmour Grassam with useful information from Henley Stone. You can follow Kelly on Twitter @KellyGGrassam. She is a Yorkshire lass with a love of eating out and travelling to interesting places.