You're looking for a wattle fence and scouting the web for the best deal. On the surface it may seem like you're purchasing high quality fence panels, but time and time again the public fall into the common trap of buying into a cheaper alternative which is more attractive and without taking the implications surrounding their purchase into account.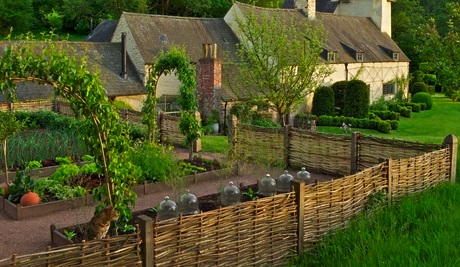 With so much involved in the traditional craft of wattle fence making, coupled with a clear differentiation between mass produced hurdles, we will outline in this article the intricacies involved in his bespoke hurdle making business and explains why sustainability and quality surpasses off-the-shelf hurdle purchasing.
A mature choice
Using the most suitable materials to create wattle fencing is of paramount importance. The maturity of the wood used plays a pivotal role in the sustainability of your fencing. If immature wood is used for your project, it is more likely to rot within 18 months – 2 years as a result of exposure to the elements and poor weather.
Merits of materials 
Hazel hurdle fencing specialists, focus on this material due to its fast-growing nature and durable qualities which allow it to be easily bent into different shapes depending on the demands of the project. Hazel has an eight year cycle and is highly sustainable, making it a superb choice for bespoke projects.
A quick fix?
If treated, wattle hurdles can last 10-15 years, making them a long-lasting choice which are made with top quality materials.
With a focus on quality and sustainability, comes into question whether buying into cheaper, less reliable wattle fencing which is less likely to stand the test of time is really a quick fix.
Investing in a wattle fence which has a higher initial cost in the short-term is proven to last longer and be a far more effective investment for the future. A common trap customers find themselves in is being attracted to the price over the quality of the product.
No more nails
Many hurdles on the market are constructed with nails. The negative impact of this is it often leaves a rust trail down the side of the wood when it rains and the nail gets older and impacts upon the appearance of the hurdle. Most bespoke fencing makers avoid using nails at all costs because of this very reason.
Common mistakes 
A number of common mistakes have been encountered by over years of experience from fence producers, the two most common are:
– Not keeping hurdles square- Keeping each end of the hurdle upright is essential, as the hurdle is unable to be put up securely unless each end of the hurdles are put together square.
– Trying to use the wrong size wood- Many fence makers encounter this issue regularly and are requested to rectify these problems to customer's existing wattle fencing. The use of larger wood than what is required leads to the measurements being thrown out of alignment. Larger wood is often used to fill the space quickly in a bid to cut corners and get the job done faster.
A professional fence maker prefers quality over quantity and would much prefer to take the time to get the project done properly and using the right materials.
Tips of the trade
Whether it is for riverbank restoration projects or garden design, wattle fencing can be used for numerous different purposes and it is imperative that the work produced is focused on craftsmanship and care rather than quick turnarounds and the cheapest materials.
By Harry Price
Harry Price is a talented young writer who lives on the south coast with his wife and 3 dogs.  They all enjoy long costal walks especially in the windy weather.