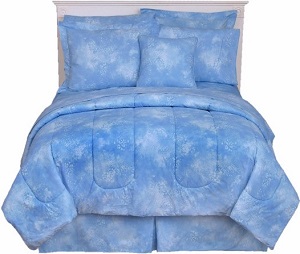 If you can sing every word to Let It Go, you are probably trying to figure out how you can create a Frozen bedroom for your young Frozen fan. With some sheer panel curtains, creative wall designs and a pastel blue duvet, you can create a Frozen atmosphere that your child will love.
Start Your Frozen Themed Room with Window Treatments
Sheer panel curtains are a perfect way to start a room with a Frozen theme. You want the room to look icy and bright, and the curtains that the sun is able to shine through will give you the effect you are looking for. Add some bling to the window by hanging a crystal in the window and letting the sunlight hit it, causing reflections throughout the space.
Pastel Blue is the Main Color
You can't create a Frozen room without using the color pastel blue. If you are not interested in Frozen bedding, a pastel blue duvet will work perfectly. In fact, when your little one moves onto the latest Disney movie, the room will still be beautiful without becoming outdated or too child like for your big girl! A fluffy bed with pastel blue throw pillows will add to the theme. Consider painting the walls pastel blue or choose to paint one or two walls instead. The room should appear as though it is an ice castle, with pastel blue, white and glitter.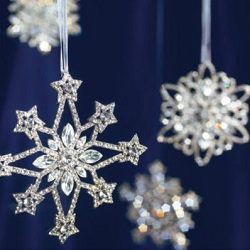 Wall Coverings Should Include Glitter Snowflakes
If you can't create glitter snowflakes by hand, choose wall stickers that are silver and in the shape of snowflakes to put around the room. If you can't find glitter snowflakes, make a stencil using a piece of cardboard and a utility knife. Use stencil paint and paintbrush to stencil silver snowflakes throughout the room.
Wall art and window clings are the perfect way to incorporate the Frozen characters into the décor. String up some icicle lights and let them glow. Thread shimmering snowflakes and hang them from the ceiling.
White Furniture Works the Best
White furniture fits a Frozen themed room the best. If the furniture is an antique, don't paint it white. If the furniture is stuff you bought for your kid's room and it is made cheaply, don't be afraid to paint it white. Replace handles with glass fixtures that look like ice to add the ice castle appeal.
Other Room Decor Ideas
To spell out a child's name, hang clear frames by light blue ribbons, each frame with a letter painted on the glass. You can also use wooden letters, hanging by a light blue ribbon. For lighting, consider beaded garland that you can glue to the bottom of a lamp shade. Anything you can add to the room to give a brighter, shimmery look will add to the theme.
The Frozen themed room can take on other forms, too. It is Queen Elsa who is the Ice Queen, and why everything is frozen solid. She is the most popular character of this movie and this Frozen themed room is really an Elsa themed room for the Elsa fan. Have fun creating this room and remember that the more things you have in the room that glimmer, the better.
+Jodi Call  has utilized her years of home interior design experience to provide an affordable collection of home furnishings, kitchen, bed and bath accessories at Bedbathstore.com.