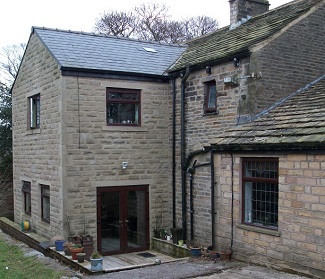 Building an extension on your home or property is a valuable investment. Whether you are planning on a new addition to the family or you need more space for your existing members, getting your extension just right is essential. You'll not only be much happier with your home when it's finished, but if you do ever choose to sell eventually, it should be worth significantly more.
So take a look at our guide to choosing natural stone before you begin on your project.
Keep it In-Keeping
One of the most important rules when building an extension is to choose materials that are in-keeping with the rest of the property, as far as possible. For this reason, period properties in particular usually require natural stone extensions that will complement and blend in to the rest of the building. However, stone cut from one area of the country might look slightly different to another. Therefore choosing a specialist stone mason who is able to match your stonework as closely as possible to the existing material, will ensure that the end results are seamless.
Of course, building entirely in natural stone can soon add up, which is why stone cladding is an attractive alternative for many home improvement projects. If the cost of your extension is making it look unfeasible, then this is an elegant alternative. Natural stone cladding can easily blend into the design and build of the rest of the property. It can also protect the structure behind with a moisture-resistant surface that will make your extension a lasting and robust one.
Choosing a Stone Mason
In a bid to cut back costs and get the job done as quickly as possible, it might be tempting to choose one team of construction workers to take care of every aspect of the construction. However you should tread carefully where the stonework is concerned. Natural stone needs to be cut, shaped and installed professionally, and by forgoing the help of an expert you could be leaving yourself vulnerable to shoddy workmanship.
Of course, keeping the budget down is a priority, however try not to cut corners on specialist tasks like plumbing, electricity and stone masonry. Where you could save money now, you might have to shell out in a few years as a result of poorly completed work that leaves your extension open to the elements or structurally unsound.
When planning and budgeting for your extension project, remember to bear in mind the reasons why you want to improve your property in the first place. No doubt you want to increase the value, whilst making it a better place to live and work for the present. So whatever your budget and constraints, don't lose sight of these priorities when choosing aspects such as stonework. Natural stone has a timeless quality that will be worth its weight in gold when you come to sell, if you are willing to materials and professional assistance from the start.
Article written by Kelly Gilmour-Grassam, follow her on Twitter at @KellyGGrassam. Kelly likes eating out and travelling to new places. This article was written with useful information from Henley Stone.