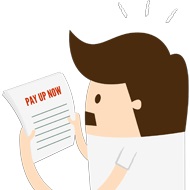 The period between pay days can leave us feeling stressed and frustrated, feeling we will not be able to stretch our pay cheque till the end of the month. Payday loans can be a quick and easy solution to receive money to see us through to the end of the month. While they are an efficient means, they can often be problematic resulting in us accumulating more debt. In most cases the interest for payday loans can be so high, you can find yourself in more debt that you did to begin with.
This article will look at other alternative means to payday loans that can benefit in the long run.
– Pay advances
If you find yourself short before your next payday, you can always ask your employer for an advance on your wages. Doing this will mean that while you may fall short on an unexpected bill or car repair, it will prevent you from falling further into debt. Some companies who put their employees first will not want to see their workers in trouble and in most cases may suggest more overtime to boost your wages at the end of the month.
– Sell old clothes and items
An excellent way to accumulate much needed cash at short notice. Sell old things you no longer need, holding a car boot sale can provided with you with enough cash to see you through to the next pay day. eBay is another popular port of call when selling items as well as Amazon and companies where you can sell old CDs and DVDs such as musicMagpie.
– Financial services
Most online financial product providers can give a bespoke service, where they can offer products suited to your needs and situation. While the products they are offer are based on loans and credit cards, you can arrange payments to fit around your financial needs. The products they provide will also benefit you if you have had problems with your credit history in the past.
– Seek government benefits
As the benefit system in the UK is so complex, some of us are unaware of the benefits that we are entitled to. Benefits such as Working Tax Credits, Child Benefits, Income Support and Job Seekers Allowance are available to those on low incomes, or in situations where they are unable to work to accrue the suitable income. Contacting Directgov will allow you to check to see what you are entitled too.
– Friends and family
Family should be there to help support you during horrible financial situations. To avoid spiralling into more debt, you can ask your relatives if they can lend you enough to see you through. Just remember that borrowing from them should be taken as seriously as borrowing from a licenced lender. To make it official and to reassure them, you should write it down and sign it as you would a contract.
If you feel that a payday loan is a viable option, some companies offer excellent interest rates and can arrange suitable repayment dates, but you should still consider the options mentioned above if you feel a payday loan is not for you. Another alternative would be to seek free debt advice. In any event, you should shop around and get as much advice as possible on any financial product.
By Harry Price
Harry Price is a multi talented young man.  A freelance writer, he is also fluent in 3 langauages and can play several musical instruments to a very high standard.