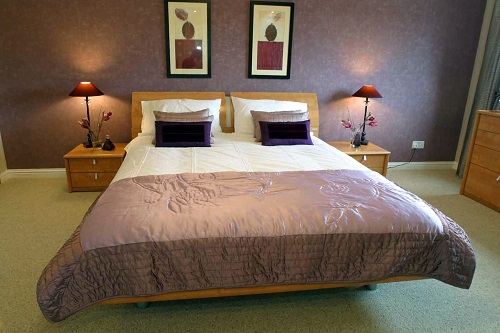 The bedroom is one of the most important rooms in the house, a room on which people like to put their own individual stamp to express their personalities. That's because the bedroom is a place of quiet, serenity and refreshment. Short on funds? No problem — you can give your bedroom a decorating lift without spending a great deal of money with these tips.
Get Thrifty
Your local Goodwill store or resale shop may have a wealth of interesting furniture pieces that can create a whole new feel in your bedroom. You may find an antique desk with cane-woven chair that fits perfectly into your vision of the new décor. Don't be afraid to break out the paint and tape to give your "found treasure" a whole new look, like an interesting chevron designs. These re-fashioned pieces can end being your favorite furniture pieces.
Make Your Own Pillows and Curtains
You can also visit your local sewing center or crafts store to find a number of marked-down fabrics that can be used for making new drapes or throw pillows for your bedroom. Choose a number of fabric designs and match them together in interesting ways for a whimsical look. You only need to know how to make simple hems make drapes in interesting patterns that will slide onto drapery poles. Bed pillows can be made in a variety of shapes to provide visual interest in the room. You can also use fabric to re-cover chair seats on wooden chairs to fit in with your new decorating design.
Re-Purpose Decorative Items
Use your creativity to look at items in new ways to provide interesting decorative items. What may have once been a number of dissimilar picture frames can fit together into a unique wall hanging. Use empty jars to display and store jewelry, as well as add a decorative note to your dressers and tables. Or fill the bottoms of the jars with sand and add a candle. A bit of bright paint is all you need to make simple, everyday items more exciting.
Add an Area Rug
Revive the look of old flooring by adding an area rug in a contrasting or coordinating color. You can find a wide range of area rug styles that will give your bedroom more "pop" for a very small price. This is one place where it's good to think out of the box. Don't be afraid to experiment with new color palettes and textures.
This post was written by Timothy Smith from Modernize; a place where homeowners can get ideas and inspiration to transform their houses into their dream home.