There's plenty you can do to get your home ready for winter – and it needn't cost you a fortune! We've compiled a handy guide to some home improvements you can make to reduce your energy bills and save money in the long run.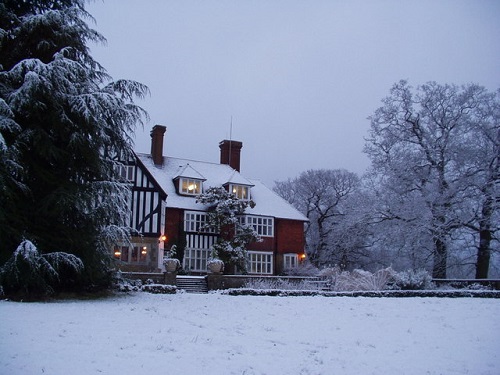 Mind the gaps
Draught-proofing is one of the cheapest, most efficient ways to save energy. Where practical, seal windows, doors (including letterboxes and keyholes), loft hatches and pipework leading outside.
Prevent chilly draughts and unwanted rodents coming inside by sealing gaps and cracks in your walls and foundation. If you still wish to open and close your sash windows, opt for window draught excluders with brushes.
Care should be taken when draught-proofing rooms where good ventilation is needed, such as kitchens and bathrooms.
Program the thermostat
Invest in a modern, programmable thermostat which allows you to set different times and temperatures for different days of the week. Turn heat down when you're not home – and up before you return. You can even give your old boiler a new lease of life by updating its controls.
Upgrade doors and windows
Upgrade to double or triple-pane glazing. For greater benefit, opt for low emissivity (low-E) window glass, which is treated with an invisible metallic coating that saves energy and reflects heat.
If it's not practical to replace your windows, there's plenty you can do to conserve heat. Hang heavy curtains, shutters or opt for sealed blinds. Secondary glazing is also a great alternative to replacing your windows and is fitted inside the existing window reveal. You can even install secondary glazing yourself.
Add insulation
A quarter of your home's heat is lost through the roof, according to the Energy Saving Trust. Loft insulation is effective for over 40 years and pays for itself time and time again through savings you'll make on your energy bills.
If your loft isn't insulated you could save up to £150 a year by getting it done, while cavity wall insulation could save you up to £145 which means it pays for itself in three years through energy savings.
Chimney
Your fireplace could be costing you hundreds of pounds in wasted energy going up your chimney each year. If you don't intend to use your fireplace, you can have a professional cap your chimney, or – if you use it occasionally – block the draught with an inflatable chimney balloon.
Energy audit
A trained technician can perform an energy audit to help you figure out where your house is losing energy and how to correct these problems. An auditor usually checks for leaks, examines the quality of insulation in your home, inspects the furnace and performs tests using an infrared camera.
You will be given an assessment which will show you how you could save money over time by investing in suitable energy saving measures.
Check you're on the right tariff
Sixteen of the most popular fixed gas and electricity tariffs came to an end during the first week of October, according to uSwitch.com. If your tariff has recently come to an end, chances are you've been automatically switched to a more expensive roll-over tariff.
"As a result some people could pay as much as £193 more. So now is the perfect time to switch and save money before the cold weather starts to bite," says Tom Lyon, energy expert at uSwitch.com.
More and more consumers are choosing smaller, independent gas and electricity suppliers, which tend to offer cheaper deals than the so-called 'big six' providers. The cheapest gas and electricity prices on the market at the time of writing are offered by ExtraEnergy. It's Fresh Fixed November 2015 tariff is just £948 per year.
Challenger supplier First Utility also recently announced it is the first independent supplier to reach the milestone of 1m customer accounts, owing largely to its cheap electricity and gas prices, which suggests more and more customers are switching to smaller rivals.
Matt Fear is a home improvement guru and general handyman. He blogs regularly on his projects and offers tips, advice and practical guides on making a house a home in the most economic ways possible.