If you want an innovative and high performance enterprise mobile app, then harnessing the potential of the cutting edge HTML5 technology is the right way to go. A HTML5 app is basically a web page or a series of web pages that are designed to work on a tiny screen and as such can be opened by any modern mobile browser.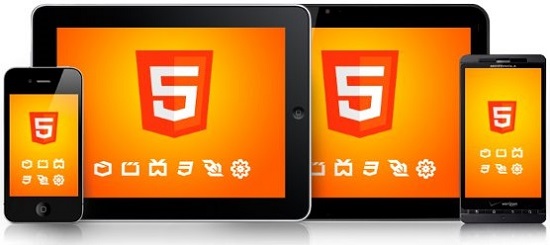 Despite having been around for a relatively long time, HTML is one of the most powerful and feature rich tools to develop both mobile and web applications. The latest version HTML5 technology offers native mobile application tools that enable app developers to easily make amendments in it as well as cross-platform tools, which enable apps to run on a variety of platforms.
One of the main reasons behind HTML5's long success is the high degree of flexibility it offers developers. Aside from that, important reasons behind its adaptability are discussed below.
Easily Available Technicians
From a hiring point-of-view, HTML5 is the most cost effective technologies to use. If you are looking for technicians to develop a business app for you, it is easier to find cheap HTML5 programmers than Android and i-Phone developers. Since HTML5 is one of the most popular technologies used by mobile app developers, finding a front-line team of developers to lead you through the successful completion of an app creation project is easy.
Easy Deployment
Most platforms utilizing native methods to create mobile applications usually require undergoing several practices to deploy the app in its respective app store. This is because such methods use extensive codes and scripts. However, with HTML5 technology, the process of deployment is quite smooth since there are fractional fragments to be installed, which can be deployed using an open-source tool such as JavaScript while launching the app.  
Robust Features
With the many applications offered in the market today, most developers prefer using a single utility with multiple features. HTML5 is one such platform, which enables the launch of an app and allows for the amendment of multiple things in a rapid duration while still keeping important functionalities of the application intact. This technology also offers features such as 2D and 3D effects as well as video and audio playback, which can help make an app's design beautiful and appealing to users.
Offers Cross-Platform Benefits  
HTML5 applications serve as a solid foundation for any HTML powered mobile apps sine this technology offers cross-platform capabilities. Therefore, with HTML5 technology, you can launch an app once and have it deployed everywhere.
Native mobile apps that offer multi-platform capabilities are a great benefit to a business. For instance, you can code an app using JavaScript or HTML and still have the app running on propriety operating systems such as Android, Windows Phone, and iOS. This brings in the advantage of reaching many Smartphone users whose phones run on different mobile platforms. With this approach, you can save a lot of money that would otherwise be spent creating duplications of a similar app to enable it to run on different platforms.
As a mobile app technology, HTML5 is a great choice. It enables you to spend little on application development costs but still manage to maximize your profits.
Parlan Sinclair is a technical writer who has years of experience writing on app development and mobile technology topics. Sinclair is currently writing for xdesign.com, a site run by a group of talented app developers.