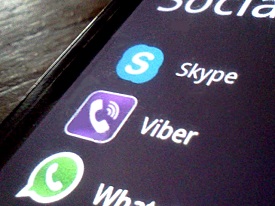 Messaging to others from a long distance used to be restricted to computer programs such as MSN Messenger and Yahoo, and overseas calls would also benefit from the invention of a webcam through Messenger. Nowadays, we can use phone cards that can offer cheap rates to call overseas and with recent developments in mobile phone technology, we can communicate through instant messenger while on the move, although internet connection is still required.
Instant messaging applications can also send video and audio messages and are a fun way to stay in touch. Some applications have now started to include free calls. Since they are included as part of your data plan, calls and messages are completely free.
Here are some of the best apps currently out on the market.
– WhatsApp
Available on iPhone, BlackBerry and Android, WhatsApp is probably one of the most popular apps out there at the moment. Its cross platform ability will mean that you can contact friends and families irrespective of what type of phone they own.  The app comes with group chats, storing time-saving stock messages and data encryption. However, a downside to this app is that you now have to pay for it. Having said that, 69p is not expensive and after that, all your calls and messages are free.
– Fring
A recent favourite, Fring uses your mobiles internet connection to give you free calls and texts to other Fring users. Similar to Skype, it can allow group and two way videos. The app can also call landline phones, both locally and abroad starting at 1p per minute. This app is also supported across platforms and networks.
– Skype
This app first started (and is still being used) on computers and is a popular instant messaging program. Supported across platforms and networks, it offers free instant messaging and calls to other Skype users, along with video. You can also call landlines, but the credit to purchase is considered extremely expensive. However, the call quality is seen as the best out of all free calling and messaging apps.
– Viber
One of the more recent applications. It provides straight forward calls and messages for free, with video currently in beta. The app will also scan your address book for other users for you to get in touch with. As well as a mobile app, it can now be used on computers, with a program that you can download and works similar to Skype. Like most apps, it can work across platforms and networks.
While these apps can provide free messages and good quality calls, the one downside is that if you are in an area with no internet connection, they can be useless. International call cards are the next best option in these situations with some providers offering discount rates and the option to use them outside of the country of purchase.
However, the mentioned apps above are only a small selection of what is available, if you are considering a trip abroad, it is advised that you prepare yourself with both a free call application and an international call card.
By Harry Price
Harry Price lives in a costal town and enjoys walking his 3 dogs along the many coastal routes they have there.