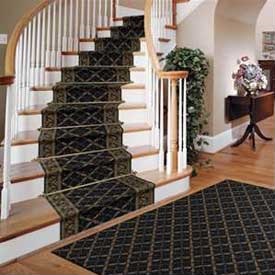 We probably all know—or at least know of—the song "Stairway to Heaven" by Led Zeppelin; but did you know stairways might actually be one of the leading causes of that early entrance to heaven? The lyric might not be such a metaphor after all. Fortunately, that untimely entrance can be prevented using stair runners.
How unsafe is your stairway?
They look perfectly simple and ordinary—in fact, they are designed to make ascending as easy as possible (without, of course, being an automated or motorized lift)—and yet, stairways are one of the leading causes of accidental injury in the United States.
According to the National Safety Council, falls are the second leading cause of unintentional death in US homes. There were more than 25,000 deaths in 2009 that were attributed to falls, and it is estimated that 12,000 deaths occur each year as a result of stairway accidents (that number exceeds the number of individuals who are killed per year on all-terrain and off-road vehicles). Further, more than 1 million injuries occur each year as a result of stair-related falls.
The risks and dangers of the stairwell are not to be taken lightly; but why are stairways so dangerous in the first place?
Climbing up or down the stairs poses the same number of risks as those you face when you are walking on level ground; however, falls on stairs tend to have more severe consequences due to the structure of the stairway. Not only are you falling on an incline, which means you are going to fall a lot further down than you would on flat ground, but you are also more prone to tumbling or catching on the steps themselves, which can lead to the acquisition of more severe injuries (like a broken neck or back, to list a couple of examples). Further, when you fall on the stairs, more than 100 pounds of weight falls with you. It's no wonder the injuries can be so extreme.
But still, the number of yearly deaths and injuries seems awfully high

In actuality, there are a number of reasons, apart from just losing your footing, that can cause an individual to lose his or her balance on the stairs. These can include:
•    Defects in the stairs themselves,
•    Improper lighting,
•    Dangerous stair risers,
•    Damaged or faulty steps,
•    Defective railings or handrails,
•    Slippery surfaces, and
•    Improperly laid mats or worn carpets with catches.
While not all of these issues can claim to have an easy fix—in fact, the damages, poor lighting, and defects would require restorative construction in order to re-establish safety—however, there is a simple and effective solution that can help solve a number of the issues on the list.
How a stair runner can help
Stair runners, when properly fitted and installed, can help increase the level of stairway safety quite significantly. Not only can a stairway runner provide a safe grip on a slippery surface, but it can also cover imperfections in pre-existing carpet that could become dangerous—if it is installed properly. And buying a stair runner is going to be a lot less expensive than having to buy and install new carpeting for the stairway and its adjoining rooms.
And they don't have to be hideous, either
If you've seen a stairway runner in the past ten years, you probably don't like the idea of installing one in your home. Fortunately, you have more options when it comes to buying a stair runner today than you did ten years ago. You are no longer restricted to the gaudy yellow-tinged black (or worse, brown) chunks of plastic. Now you can even install stair runners that are made of carpet. You can even get them custom made to match your existing carpet, your curtains, or your favorite painting.
There's no reason your stair runner can't be the focal point of your room anymore. And they are still as functional as they are aesthetically appealing. So design the most beautiful stair runner you can envision, have it measured and installed properly, cover up the slippery surfaces, blemishes, or tripping hazards of your existing stairway, and make your stairs a little more elegant and beautiful and a lot more safe.
This article was written by Whitney. L. Coopeir, an experienced writer on homes and gardens, according to whom carpet runners help keep your stairs safe.