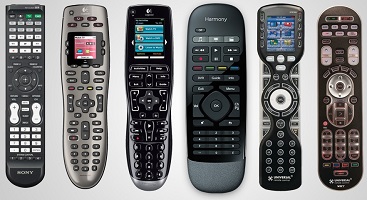 Count the remote controls in your lounge – you may have 3 or 4 littering various tables, sofas and comfy chairs and maybe another 1 or 2 hiding behind a cushion. One is probably showing signs of wearing with numbers missing, as well as being chewed in the corner when the dog decided to gnaw at it…
And then, when Grandma comes to stay to act of putting the TV on all of a sudden becomes an incredibly difficult thing to do. You have to explain why you have more than one to simply put the TV on… and no doubt there will be a fruitless discussion about why can't one remote do it all.
With a lot of sighing you realise that this would simplify using the home cinema system and there is a gadget that can do it all – saving you countless hours wasted over the course of a lifetime looking for that one remote! Universal remotes are here and when programmed, they can operate every part of your system – really clever ones can close the curtains and dim the lights too.
What devices can be controlled by a universal remote?
It depends on the model as to how many devices can be attached your remote so to speak but some of the most commonly attached devices include;
CD changers
DVD players
The TV
Sky/cable/Freeview boxes
Game consoles
And many others
Different types of remotes
As you would expect, the pace of technological change and advances means that remotes are now incredibly sophisticated but broadly fall in to 3 categories;
PC programmed – the humble PC, sitting in the corner, now drives so many devices etc. in the home, that they have become incredibly powerful in terms of performance. The remote is programmed via codes and then downloaded from PC to remote via a USB.
Wi-Fi enabled remotes – work by connecting to the home network to gain up to date information this way; with a small LCD screen you can see the latest news updates, along with sports, films times etc.
LCD touch screens – these remotes offer a great usability for all members of the family and, as the name suggests, all the necessary icons and commands can be found on the screen. With more and more items in the home operating this way, many people feel comfortable with this interface.
The benefits
There are many benefits to having one, single remote control to control everything, with the main one being the removal of clutter – all those remotes are replaced by one. And, of course, these universal remotes are sophisticated, able to gain updates from the Internet, keeping you ahead of the game.
Investing in a programmable universal remote is a great way to top off your investment in a home cinema system, giving you the ability to power up and power down your system in one easy step, flick channels, see what's on and dim the lights too…
Guest author Steve Bateman works as a TV and AV specialists with man years experience in thie industry with Master AV Services. Steve enjoys sharing knowledge and advice through blogging.