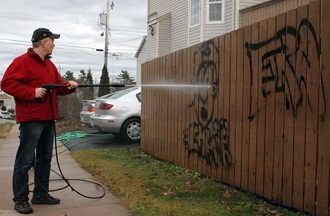 Graffiti is vandalism and its impact can be much higher than simply causing a nuisance to the owner of the property in question. If the issue isn't dealt with, then the problem can heighten social problems within the whole neighbourhood, reducing property prices and encouraging such vandalism.
As such, it is essential as a property owner to take care of the issue if you are experiencing problems with graffiti, to nip the matter in the bud before it worsens within the area.
Who is Responsible
Although many people believe that it is the council's duty to remove graffiti, this is only true where public property is concerned. Private property, on the other hand, is left to the responsibility of the owner to remove graffiti and other unsightly forms of vandalism such as flyposting. In fact, if you fail to do this as a property owner then you could receive a notice from the local authorities demanding that you do so.
Why is It Important?
The sooner that graffiti is removed, the easier it is to remove all traces and the less likely it is that the vandalism reoccurs. If logos, tags and street art remain untouched for a long time, then the vandals will be encouraged to use your property again in the knowledge that it will be there for all to see.
However if you promptly remove the graffiti, they will be more likely to move on. If the whole neighbourhood acts together to clamp down on the vandalism, then the problem can be quashed throughout the area by showing the perpetrators that it isn't worth their effort.
Removing and Preventing Graffiti
Graffiti can range from small tags and logos to large forms of street art, and the removal methods can vary depending on the type of graffiti and the surface that it has been made on. Although it can occasionally be painted over on painted walls or removed with white spirit, in many cases you will need to hire a graffiti removal specialist to effectively clear the area.
To prevent graffiti occurring again, you can either paint the wall a colour that is least likely to attract vandals (preferably not black or white) or cover the wall with climbing plants or trellises that prevent the wall from being a blank canvas. Where the problem is reoccurring, anti-graffiti treatments are also available from specialist companies who can work with you to combat the issue once and for all.
Taking a pro-active stance towards vandalism is essential if you want to prevent the problem from worsening and maintain the reputation and value of the neighbourhood. As a property owner it is not only your duty to tackle graffiti, but it is in your own best interests to remove such vandalism swiftly and effectively as a way to stop it from happening again.
For more advice regarding graffiti removal and prevention, contact your local council or a graffiti removal specialist who can offer tips and services to help aid your efforts.
Article by Kelly Gilmour-Grassam, a Yorkshire lass who enjoys socialising and eating out. You can follow her at @KellyGGrassam.