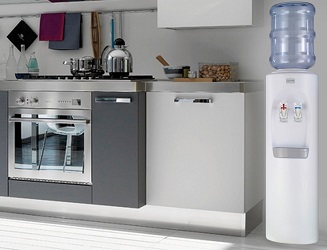 Water coolers can be an excellent appliance around the house. These innovative inventions can encourage consumption of water in any environment. They dispense clear, refreshing and cool water and can be a great asset to any home. Proper maintenance will ensure that your investment in these appliances has been greatly placed and can last a good while.
Below are some tips that may help you properly maintain your home water cooler and make sure it runs as efficiently as possible:
– Sanitisation
Water dispensers need to be regularly sanitised. Use a sanitising agent on the exterior of the coolers and on the taps. Dispensing taps can be easily taken apart to make it simpler to clean. Bottled dispensers need to be cleaned every three months and Point of Use (Sometimes called bottle-less coolers) dispensers should be every six months. Alongside this, the POU need to have their filter changed when cleaning.
Sanitisation involves the removal of potentially harmful bacteria from the water contact points that can build up over time inside the cooler. A good sanitisation solution should consist of a tablespoon of bleach and four to five cups of water.
– Maintenance
Owners of a POU cooler need to be aware of where the home water isolation valve is in the event of an emergency. If there is a leak in the bottled dispenser, remove the bottle and unplugged from the power supply.
Bottles should not be refilled from the tap and ensure that they are stored in a cold, dark place. The bottles do come with expiration dates, so make sure these are checked and even if the bottle is not empty, it needs to be changed regularly to avoid drinking stale water.
– General care
The location of the water cooler is just as important as cleaning and general maintenance. Ensure that it is not positioned on laminate floor in the event of the device flooding; this will prevent any accidents such as slipping up on wet patches. Place the cooler on a flat or uneven surface and avoid placing it in direct sunlight. This applies to bottled water coolers as well; you should also avoid purchasing water bottles with broken seals.
You need to ensure that the location of the water cooler can allow for proper ventilation, with at least four inches around the appliance.
Plumbed water coolers (POU) can often accumulate dust which can hamper the running of the device. Clean the device at least once a week to prevent the build-up of germs.
Regularly empty the water tray and maintain that it does not overflow as this can lead to accidents.
Following these tips will give you an excellent experience with your water cooler. Regular cleaning will guarantee that it will provide you with fresh water, free from contamination. Professional guidance and support is always on hand if you are unable to repair any faults and most water coolers do come with a warrantee in the event of breakage. As always, it is best to seek guidance first before starting on any repairs.
By Harry Price
Harry Price is a free-lance writer who enjoys playing poker competitively. He spends his free time playing football for a non-profit organisation in England.