According to the Royal Society for the Prevention of Cruelty to Children, more than 1 million children under 15 are taken into A&E as a result of accidents in the home. You may feel that the home is the safest place on Earth for your children, but accidents still happen, even at home and it is our role as parents to keep our children safe.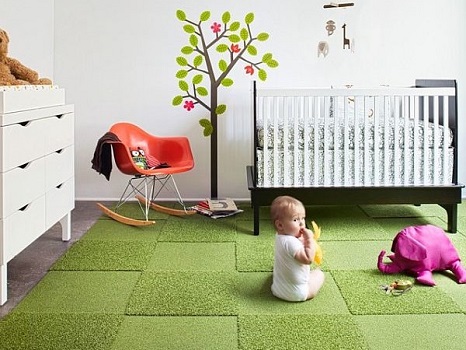 When inspecting your home for hazards that might cause harm, see things from a child's perspective. Assesses your home to examine the obvious and not so obvious dangers, and ask yourself these questions; what objects look enticing to grab? What areas look interesting to explore? Are they safe?
Here are some tips that can help you properly secure your home;
Electrics
Electric sockets are extremely easy to reach, making them a high risk for toddlers crawling around on the floor. To prevent a child from sticking their fingers into one, use a plug socket guard for exposed sockets. Loose cords should be secured with electrical tape along with any excess cords. A child's curiosity may cause them to pull at loose or excess cords and pull down electrical equipment on top of them.
Stairs
Stairs account for 44% of children's accidents in the home. Because of the frailty of young children's bones, they are more susceptible to fracture. To ensure this does not happen, you should install a stair guard at both the top and the bottom of your stairs. They should be firmly secured to the walls and the lock should be fastened. All gates should comply with the British Safety Standards. Remove any objects by the stairs that could result in accidents.
Windows
Along with stairs, windows also contribute to the number of accidents relating to falls. Keep windows locked and use stoppers to allow the window to open no more than 10cm. To prevent a child from removing the stopper, it should be placed out of reach, at the top of the window for example.
Blinds are also one of the causes for child strangulation in the home. Ensure the cord is secured out of the way of reach and fastened. Opt for chain breaker connecter that disconnects the cord when under pressure, in the event of a child gaining hold of the cord.
Many reputable blind manufacturers can arrange and design child safety mechanisms for blinds.
Sharp objects and other hazards
Sharp knives should be safely stored away in secured kitchen drawers or cabinets. Many liquids and substances around the home can pose a danger if ingested by humans and small children cannot differentiate between safe and unsafe liquids. Store cleaning agents out of reach of children and buy products with safety caps to prevent children from easily opening them.
Having children can be the most rewarding experience for any parent, but it pays to keep vigilant around the home to ensure there is nothing that can pose harm. At least, for a short while, then you can breathe a sigh of relief that they can look after themselves.
By Harry Price
Harry Price is a free-lance writer and personal trainer. He enjoys guest blogging and travelling the country.