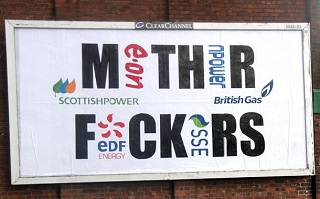 Huge volumes of customers have left the big six energy companies in favour of smaller, independent energy suppliers, it was reported today [Monday].
Figures published by the Mail on Sunday suggest swathes of customers have switched to suppliers outside of the big six in the wake of soaring energy prices, profiteering claims and growing billing complaints.
The big six energy companies – British Gas, SSE, E.ON, EDF, Npower and Scottish Power – supply 95% of UK households and are currently at the centre of a competition probe by  the Competition and Markets Authority (CMA) after being reported by energy sector regulator Ofgem. In an investigation which could last 18 months, CMA will uncover whether the big six prevent effective competition in the UK energy market.
The state of the sector
Recent figures from Ofgem suggest the large energy firms will double their profit margins over the course of the next year. A backlash of comments from the firms in question brought the regulator's figures into question, with British Gas since reporting a large drop in profits and criticising Ofgem for confusing customers.
The price row continues, with many customers becoming more and more disillusioned. According to figures, the big six received 1.7m complaints in the first quarter of this year alone. Consumer group Which? Flagged the figure as a 1.48m increase.
Energy UK, the trade association which represents all suppliers, claimed there is finally an emergence of a free market. Angela Knight, Chief Executive of Energy UK commented: "Smaller suppliers are making significant inroads into the market. These numbers show that people are engaged, people are switching. They show there is genuine competition."
Switching energy supplier
According to the Department of Energy and Climate Change (DECC), 1.3 million electricity customers and 866,000 gas customers changed supplier towards the end of last year. The figures published by the Mail on Sunday state over 2m customers have switched to smaller firms and are saving around £200 per household.
Energy Secretary Ed Davey said: "We have almost trebled the number of small suppliers since 2010 and our reforms are making it easier and quicker for people to switch energy suppliers… Households could save £200 a year or potentially more by switching supplier, and we encourage all consumers to shop around for the best deal for their energy bills."
In a move which will make switching supplier easier for all, the switching process has recently been cut to just three days in contrast to the current 5 week timescale. The three-day proposal will follow a two-week cooling off period and will come in to effect from December 31 this year.
"Small energy providers do benefit from lower costs and lower government levies," says Ann Robinson of USwitch.com. "However, companies like First Utility has increased its market share above this and continues to offer the most competitive deals."
Small independent suppliers such as Co-operative Energy, First Utility and Extra Energy currently offer the best deals on the market, with prices fixed at under £1000 a year. The average dual fuel bill stands at £1,346 a year.
Sam Travers is an eco warrior of sorts. He works for a green charity and regularly blogs about the state of the energy sector as well as ways to make the world a better place.